On Friday, the Quartet issued a statement that said "a negotiated two-state solution is the only way to achieve enduring peace, with two states, Israel and Palestine, living side by side in peace and security."
The group's four members further demanded that Israel "cease the policy of settlement construction and expansion."
About 570,000 Israelis live in settlements (pictured above) in the West Bank and East Jerusalem, which Palestinians hope to make the capital of their future state.
The group warned that Israel's policy was undermining the viability of a two-state solution. "This raises legitimate questions about Israel's long-term intentions, which are compounded by the statements of some Israeli ministers that there should never be a Palestinian state," the group's members said in their joint communique. They also urged both sides to put a halt to terrorism.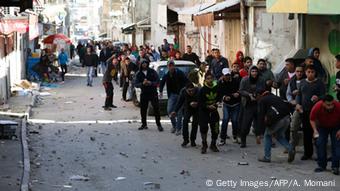 Palestinians clashed with Israeli soldiers in Ramallah earlier this year
Reacting to the Quartet's statements, Prime Minister Benjamin Netanyahu said the text perpetuated "the myth that Israeli construction in the West Bank is an obstacle to peace. When Israel froze settlements, it did not get peace."
No plan as yet
The EU's foreign policy chief, Federica Mogherini, urged Israeli and Palestinian leaders to follow the report's recommendations. "We need the political leaders to show their commitment and implement the recommendations of the report," she said.
The UN's Middle East envoy, Nickolay Mladenov, also expressed the hope that the report would serve as a "wake-up call." "We can't leave this the way it is," he added. "We simply can't."
Friday's communique also marked a shift for the US, which supported the call to end Israel's occupation of Palestinian territory. But Palestinian officials were dissatisfied with the Quartet's formulations.
"It does not meet our expectations as a nation living under a foreign colonial military occupation," Palestinian official Saeb Erekat told the Reuters news agency. The report, he said, attempted to "equalize responsibilities between a people under occupation and foreign military occupier."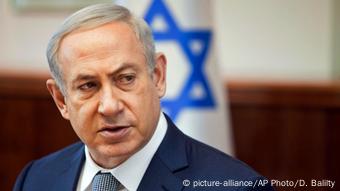 Israeli Prime Minister Benjamin Netanyahu with his hardline government has had a strained relationship with the international community
Palestinians are fighting for a separate country in the West Bank, Gaza and East Jerusalem, which was captured by Israel in a war in 1967. Currently, the Palestinian Authority led by President Mahmoud Abbas administers the West Bank, while Hamas has been overseeing Gaza since 2007.
The last round of peace talks between Israel and Palestine broke down in 2014, and recent times have seen a surge in violence. At least 33 Israelis and two Americans have been killed in attacks since last October. Israeli officials have killed at least 201 Palestinians, including 136 alleged assailants, during the same period.
mg/kl (AP, AFP)