Olympic swimmer Ariana Kukors Smith sued USA Swimming on Monday, alleging the sport's national governing body knew her former coach, Sean Hutchinson, had sexually abused her as a minor and covered it up.
Kukors Smith accused Hutchison, her coach at swim club in Seattle, of grooming her for sexual abuse when she was 13, touching and kissing her when she was 16, and engaging in sexual activity with her when she was 17.
"USA Swimming officials secretly agreed Hutchison should be specifically protected from the background check process due to the fact that pervasive rumors of his inappropriate sexually motivated behavior towards minors such as the plaintiff would inevitably surface through contacts with prior employers," Kukors Smith, now 28, said in her lawsuit, which she filed in the Orange County Superior Court near Los Angeles.
"This lawsuit is about holding people accountable who should have protected a 15-year-old girl," she told reporters after filing the suit. "I needed help and there were people in positions of power that could have helped me."
She added that "by doing nothing," USA Swimming "enabled Sean Hutchison to abuse me for a decade."
She is also suing longtime Olympic coach Mark Schubert, saying he failed to report "a reasonable suspicion of child abuse or endangerment."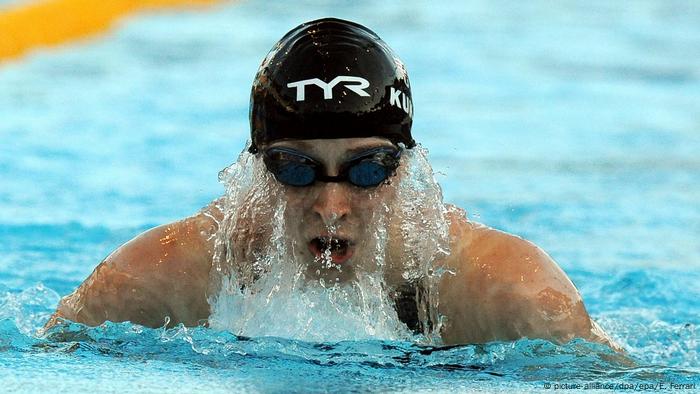 Ariana Kukors Smith swimming the 200-meter individual medley at the 2009 World Championships
Kukors Smith won the 200-meter individual medley at the 2009 World Championships. She placed in fifth in the event at the 2012 Summer Olympics in London.
Still muddy waters
Hutchison has denied the allegations, which emerged earlier this year when Kukors Smith posted an essay online. USA Swimming said the essay was when it first learned of the underage abuse allegations.
The lawsuit marked another scandal for USA Swimming, which revealed in 2010 that sex abuse allegations were mostly to blame for lifetime bans of 46 members. It said it had set up advanced screening for all coaches, officials and volunteers.
The organization had hired a private investigator in 2010 to look into rumors of a relationship between Kukors Smith, then 21, and Hutchison, then 39. It closed the investigation without finding any misconduct after the two denied the relationship. Some have questioned the thoroughness of the investigation.
The case also comes four months after former USA Gymnastics doctor Larry Nassar was convicted of abusing 265 women. He was sentenced to up to 175 years in prison in January.
dv/pfd (AP, AFP)