Some 54 percent of Germans are satisfied or very satisfied with the performance of Angela Merkel's government, according to the latest survey by ARD's DeutschlandTrend. That's up from 46 percent last month and still falls short of her 67 percent approval rating in July.
Meanwhile, approval ratings fell from 46 percent to 38 percent for Horst Seehofer, the Bavarian state premier and leader of the Christian Social Union (CSU), which is the sister party to Merkel's Christian Democratic Union (CDU).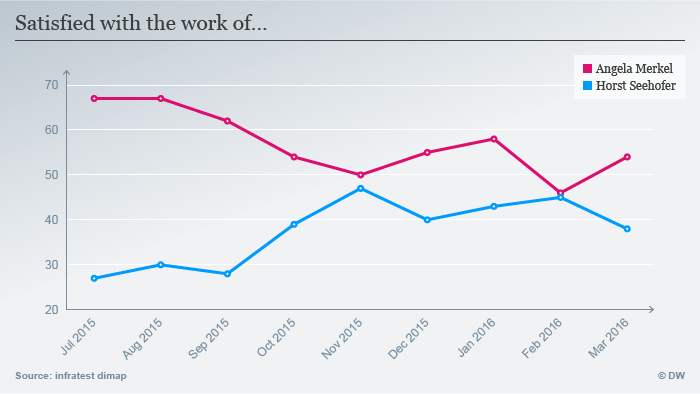 Despite her rise in popularity, Merkel's handling of the refugee crisis has fewer admirers in Germany. Fifty-nine percent of the survey respondents are not satisfied with the government's migrant policy, in comparison to 39 percent who are satisfied or very satisfied.
Merkel enjoys the support of the majority of her CDU voters, with 55 percent of them approving her course on asylum and refugee issues. Among the supporters of her coalition partner, the Social Democratic Party (SPD), 44 percent favor Merkel's refugee policy. Surprisingly, her biggest supporters on the refugee crisis were in the opposition Green Party: some 67 percent of them are happy with the way she is dealing with the issue.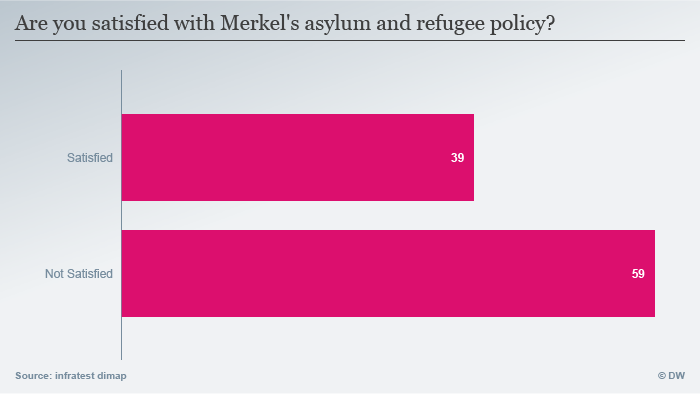 Meanwhile, the majority - 83 percent - of those surveyed said they were ashamed of the violent protests against refugees. Only 34 percent think the authorities are protecting foreigners sufficiently, while 58 percent want to see better security for them. Politicians should also express stronger condemnation against attacks on refugees, some 76 percent said.
Explaining the discrepancy between the support for Merkel as chancellor and her refugee policy, the ARD points out that despite being a major issue in the media, the refugee crisis still does not affect people's daily lives. Issues such as employment and economic conditions are more important for the citizens, it adds.
The survey polled 1,005 men and women between February 26 and 27.
shs/kms (ARD)