The German government on Friday said that the European Union's fiscal pact - an accord for member countries to keep annual budget deficits within EU targets or face sanction - was not open for renegotiation. French presidential frontrunner Francois Hollande, who faces a runoff vote against incumbent Nicolas Sarkozy on May 6, had suggested in a television interview that the deal be reappraised.
"There will be no new negoations on the budget pact. Twenty-five heads of governmnet have signed it," Merkel said in an interview published in the Saturday edition of the Leipziger Volkszeitung. "It has already been ratified by Portugal and Greece and Ireland will put it to a referendum in May."
Hollande, who has a big lead in the latest opinion polls ahead of the second round vote, appeared on France 2 television saying that the EU needed to put more emphasis on promoting growth, not reining in spending.
"Many countries are currently waiting on the result in France, for we are not just any old EU member, we are a leading country in Europe, and the decisions taken by the French people will notably change the situation," Hollande said. The Socialist party candidate also said he expected Merkel to contest several of his suggestions, because "that's the way negotiations work."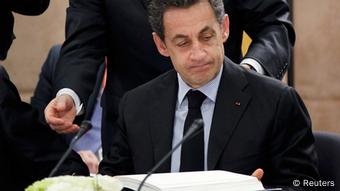 Nicolas Sarkozy, like Merkel, signed up to the fiscal pact
If elected, Hollande said he would tell Merkel "that the French people have made a decision that presents a renegotiation of the [fiscal pact] deal."
Divided over substance, or semantics?
Government officials in Berlin, however, contested that this constituted a collision course with France's potential president, with Merkel's spokesman Stefen Seibert saying she was "most certainly not involved in an exchange of blows with Mr. Hollande."
Since Hollande's comments, Merkel has also said she agreed with Hollande's position on promoting growth. She said that this "has long been the second pillar of our politics," after debt reduction. The chancellor added she was confident of a good relationship with either of the French presidential contenders, describing them both as "pro-European politicians."
"We are preparing a growth agenda for the European Union summit in June," Merkel said on Saturday.
German Foreign Minister Guido Westerwelle said in Bangkok Friday that "the fiscal pact will stand." However, he agreed that the accord should be accompanied by measures to encourage economic growth. The pro-business Free Democrat also urged both the main German parties, Angela Merkel's Christian Democrats and the opposition Social Democrats (SPD), to stay out of the French election debate.
"Goodness knows France can decide for itself who should lead the country," Westerwelle said.
Social Democrat politicians have criticized Merkel's response to the Hollande interview, with party chariman Frank-Walter Steinmeier calling it "politically unwise and inappropriate." The SPD's foreign affairs expert Rolf Mützenich said the chancellor should "honor the good German foreign policy tradition of restraint" in the French election campaign.
Merkel's CDU has said that it would prefer conservative incumbent Nicolas Sarkozy to win next Sunday's runoff vote, but the SPD have thrown their lot in with Francois Hollande.
The EU's fiscal pact was agreed to at a December EU summit. 25 of 27 EU members, the exceptions being the UK and the Czech Republic, have signed up to the deal in principle. The accord is still in the ratification process in most member states' respective parliaments.
msh/srs (AFP, dpa, Reuters)