Merkel and the Indonesian president signed the Jakarta Declaration during the German chancellor's first visit to Indonesia since 1995. The agreement aims to take bilateral ties "to a higher comprehensive level," enabling the two countries "especially to develop our strategic cooperation together," Merkel said at a news conference.
Closer defense, economic ties
Germany and Indonesia will also strengthen defense cooperation, although no concrete deals were included in the declaration. President Yudhoyono expressed an interest, however, in German Leopard 2 tanks, made by German manufacturer Krauss-Maffei Wegmann.
"We'll be very open and transparent about this," Yudhoyono told reporters, adding that Indonesia's military equipment needed updating and that Germany was one of the partners Indonesia could turn to for supplies.
The Jakarta Declaration also aims to strengthen trade ties. Recently, bilateral trade grew by 7 percent to more than seven billion dollars (5.7 billion euros). German delegates estimate that figure could go up to $15 million by 2015.
Fiscal praise
Being in Indonesia did not keep Merkel away from her most pressing issue - the eurozone crisis. She told reporters that German growth would slow down this year because of weaker exports to budget-battling neighboring countries.
She then praised Indonesia, which managed to slash its debt from 80 percent of GDP to 24 percent in a matter of years, for its fiscal achievements.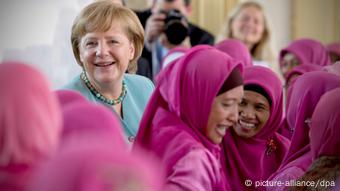 Merkel visited a church and a mosque
"I think that's an example of what can be achieved and what Europe has to achieve, especially given the fact that Indonesia was able to achieve this over a short time, in fact in a few years."
Religion and science
On Tuesday, Merkel visited the Protestant Immanuel Church as well as Istiqlal Mosque, the region's biggest. Indonesia has the biggest Muslim population worldwide, with 200 million Indonesians following Islam.
On the second day of her visit, Merkel went to the tsunami early-warning center in Jakarta. Opened last year, the center had been built with support from Germany worth 50 million-euros.
In 2004, a devastating earthquake measuring 9.1 off the coast of Sumatra was followed by a tsumani or tidal wave which killed 230,000 people, 165,000 of them in Indonesia.
"I believe that we can cooperate more closely in science and research, and the tsunami warning center is but one example of that," she told reporters.
ng/jm (dpa, AFP, Reuters)