German Chancellor Angela Merkel told the Funke Mediengruppe, a German newspaper chain, that she advocated continuing the negotiations between the US and the European Union – in order to reach an agreement before US President Barack Obama leaves office in January 2017.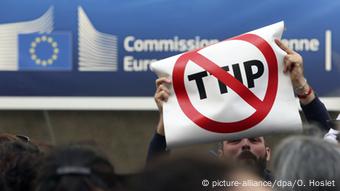 A growing number of protests against TTIP have highlighted the lack of public support behind the trade deal
While that timeline may seem ambitious, Merkel said the TTIP trade deal would also serve as a stimulus to alleviate unemployment across the EU.
"That's why we should support everything that can create jobs, and that includes the free trade deal," she said and added that she had shared her views with the US president during the G20 meeting in China.
As opposed to the CETA trade agreement with Canada, TTIP is, however, still in its early stages and might require long negotiations until itcan be ratified.
Growing doubts
Chancellor Merkel's deputy, German Economy Minister Sigmar Gabriel, had caused a stir last month when he declared that the bilateral talks were "de facto dead," as a growing number of Germans voiced their opposition to the deal in a series of protests.
France and Belgium have also cast doubt on the prospects for the new trade deal. However, the EU has repeatedly stressed its mandate to finalize the agreement.
Skepticism has meanwhile also started to grow among Americans.
ss/kl (Reuters, dpa, AFP)