Huda Ababneh relaxed as soon as the interview was over. The Jordanian engineer is an official with the country's health ministry and was worried that she couldn't give good interviews or statements. So she was surprised and relieved to find at the training sessions that she really could get her messages across.
That's important, because she not only needs to convince the public but the powerful decision-makers, as well. Jordan urgently needs their support for staffing public hospitals, for example, or educating people about the consequences of smoking.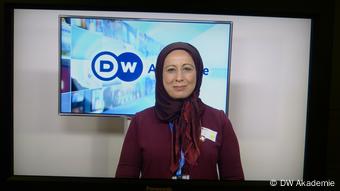 Jordanian engineer and health ministry official, Huda Ababneh, practicing techniques in the TV studio
Together with 18 other ministry officials and WHO staff from Middle Eastern countries including Bahrain, Egypt and Oman, Huda and Maha El-Adawy (main picture) were coached by DW Akademie trainers on how to speak effectively to the media and the public.
"Never give an interview if you don't have a key message!" stressed trainer Constanze Abratzky, gladly repeating the phrase. And when her colleague Udo Prenzel trained participants on giving statements he never tired of saying, "You can make it even shorter and snappier!"
Defining health
The media training was part of a week-long course organized by the United Nations System Staff College (UNSSC), a UN training center in Bonn. Here, participants took a closer look at Agenda 2030 topics that focus on sustainable development in the health sector.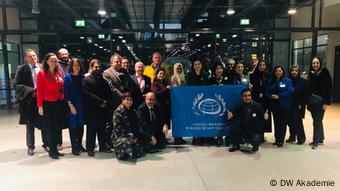 The group in front of Deutsche Welle's main entrance
"When it comes to health, most people still think in terms of 'not being sick'," said UNSSC's course coordinator Simona Sow shaking her head. "But a population's health and well-being are connected to so many factors – whether they have a good job, whether the environment is still intact, whether social conditions are alright."
Achieving more, together
This was the first time that the UNSSC paired up WHO staff with health ministry officials from the same country. "They can achieve more by working towards the same goal than they could if they were working alone," said Sow.
In a practice interview, Abdam Abdel Moneim from the WHO in Iraq talked about the health situation in his country. Admitting he was deeply frustrated, he said that illnesses abounded, that the environment suffered in many areas, and that drinking water was often contaminated.
"Given all these problems," he said after the training had finished, "one thing is extremely important: good communication."
He recounted an interview on Iraqi television where a person had said something inaccurate about cholera. People immediately started to panic, he said.
Maha El-Adawy from the WHO in Egypt added, "If I can't get my message across clearly, I won't be able to change the things I want to change."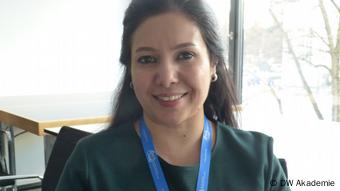 Wafa AlSharbiti from Bahrain's Health Ministry
Clear communication
Participants of DW Akademie media trainings learn how to deliver their messages in a clear and convincing way. "Our trainers are all journalists," explained Daniela Wiesler, head of DW Akademie's Media Training division. "They ask participants questions that journalists ask them in real life, and then give the participants genuine feedback," she said.
That appealed to Wafa AlSharbit. As an official of Bahrain's health ministry, she often has to give interviews but has never received feedback on her responses. This, she said, is exactly what's needed so that officials and other spokespeople can clearly get their messages across.