Slaughterhouses and meat shops in the northern state of Uttar Pradesh (UP) have come on to the radar of the authorities since Prime Minister Narendra Modi's Bharatiya Janata Party (BJP) scored a stunning win in the recent state election.
After the victory, Modi named a brash priest-cum-politician, Yogi Adityanath, to lead India's most populous and politically most prized state, home to around 220 million people.
And in one of his first moves as chief minister, Adityanath initiated a crackdown on abattoirs deemed illegal, thus acting upon a campaign promise. While most of these butcher shops have been traditionally run by Muslims, cow slaughter is a highly-sensitive issue for devout Hindus.
The BJP has also turned beef and cow slaughter into a major electoral issue in recent years.
At a rally on Sunday in his hometown of Gorakhpur, Adityanath once again pledged to reinforce efforts to protect the cow - an animal regarded as sacred by many Hindus.
"All the illegal operations in slaughterhouses should end now," Adityanath said. "The majority of the slaughterhouses and meat shops are running without licenses and government approval. I know that in the name of buffalo, cows are being slaughtered in many abattoirs. This should end."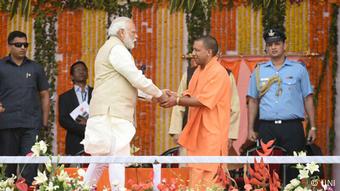 Modi chose the priest-cum-politician, Yogi Adityanath, to lead India's most populous and politically most prized state
But in response to the state government's crackdown, many shopkeepers across the state launched an indefinite strike on Monday.
Rise in vigilantism
Uttar Pradesh has 41 licensed slaughterhouses and is the country's largest meat-producing state. The industry is estimated to contribute over $1.7 billion to the state government's revenue.
"All shops will remain closed. Fish sellers, too, have joined us," said Mubeen Qureshi, a representative of the meat-sellers association in the state capital, Lucknow. "The meat sellers are piqued over the crackdown on slaughterhouses, which has adversely hit the livelihood of hundreds of thousands of people."
Indian broadcaster NDTV quoted a shop owner in Noida as saying that authorities have also been targeting chicken shops.
The police, however, deny these claims and reiterate that they are only following rules. "It is the police's job to check papers," Superintendent of Police of Gautam Budh Nagar, Sujata Singh, told NDTV, adding that "some people are closing their shops themselves because they do not have renewed licenses."
Over the past couple of years, there is also a rise in vigilante attacks by self-proclaimed cow protection squads. Anyone suspected of illegally slaughtering cows or possessing beef faces grave consequences.
For instance, the lynching of 50-year-old Mohammad Akhlaq by a right-wing Hindu mob in the town of Dadri over rumors of possessing beef grabbed international headlines. Police later said it was mutton.
Victims of the attacks have been overwhelmingly drawn from the Dalits, regarded as the lowest segment in Hinduism's caste-based rigid social hierarchy, and the country's Muslim community.
A contentious choice
Modi's decision to name Adityanath as UP's chief minister proved to be extremely controversial. Whereas supporters greeted the selection with winsome applause, opponents derided it as a means for the BJP to consolidate its support among its right-wing Hindu nationalist base.
Critics base their arguments on Adityanath's fiery rhetoric in the past. The 44-year-old cleric, usually seen draped in a saffron-colored robe, is known for his coarse and incendiary discourse, particularly targeting the Muslim community that makes up nearly 20 percent of UP's population.
The new leader also faces charges of attempted murder, criminal intimidation and inciting violence.
Another controversy surrounds his references to "Love Jihad," which is described by Hindutva ideologues as a ploy contrived by Muslim men to lure young Hindu women into marriage and conversion into Islam.
It's therefore hardly surprising that Adityanath's selection triggered fears that there would be a renewed push to force through contentious items on the wish list of the BJP's Hindu nationalist base, potentially leading to violent communal unrest.
Adityanath is also a strong proponent of constructing a temple for the Hindu god Ram at a disputed site in Ayodhya where the Babri Mosque stood until its destruction by a Hindu mob in 1992. That incident sparked riots between the two communities across India and has remained a bone of contention ever since.
Criticism from abroad
Adityanath's appointment also grabbed the attention of foreign media outlets like the New York Times. In a highly critical editorial, titled "Modi's Perilous Embrace of Hindu Extremists," the paper last week lambasted it as a "shocking rebuke" to religious minorities.
It also said that the move was "a sign that cold political calculations ahead of national elections in 2019 have led Mr. Modi's Bharatiya Janata Party to believe that nothing stands in the way of realizing its long-held dream of transforming a secular republic into a Hindu state."