DW: In 2010 you said that your club needs to make up for 10 years. What did you mean by that and what did you need to improve back then?
Max Eberl: Back in 2010 Borussia Mönchengladbach was always being compared to the big clubs in the Bundesliga. As far as tradition goes, that was the right thing. But financially, sports-wise, it just wasn't appropriate. The "10 years" thing just slipped out from me, it was just meant to illustrate that we had to think long-term. Now, within four years, we have managed to speed up that process and to get to the Europa League, by making the right decisions and developing well. I am still a long way off comparing myself to Dortmund, Leverkusen, Wolfsburg and Bayern Munich, especially when it comes to the opportunities available. But the development is looking good.
You started to lead the club like a mid-size business. What were the most pressing issues to deal with as you started your work here?
I took on the role of sporting director in 2008 and I had worked before in the youth section. I was able to see there just how good our youth players are. For that reason a big part of our strategy is to focus on youngsters. We want to look after their talent, we want to help them develop and we want to be successful with them. And when some big club comes and lures these players away then it has to be for the biggest amount of money possible, so that we can invest more money in the process.
If you look back at that 2008 plan now, then you'd have to say a lot of what we decided was correct. We found players like Reus, Dante, Roman Neustädter. We also found Patrick Hermann, Marc Andre ter Stegen, and most recently, Christoph Kramer. These players have developed here, and together with us they have lifted us to a new level.
The players that went to top clubs, like Neustädter, Dante and Reus have earned us money, and we could invest this somewhere else. And one very important decision was the head coach. It's one thing having a strategy and it's another having the players. But you need to have a coach that fits with the strategy, who works with the players, and that has functioned well.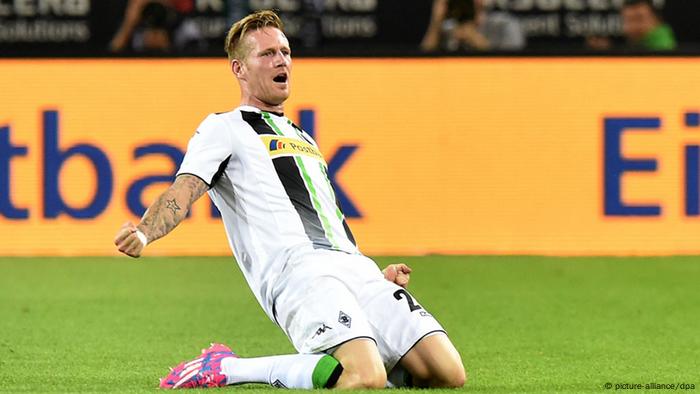 Andre Hahn is symbolic of Gladbach's young, dynamic image
You have also in the past described Gladbach as a sleeping giant. What phase is this giant in now? Is it is still asleep or is it now starting to wake up?
I don't think it is asleep anymore. I think we have awoken from our pleasant dreams, and I think that they have partially become our reality. It's great that we planned things and promised the players certain experiences, like getting into the Europa League, and we achieved them. Gladbach hadn't played in Europe for 20 years, now we have managed it for the second time in three years and we are playing well in the group phase. So I would say the sleeping giant isn't up on his feet just yet, but he is on his way to doing so.
Many people also find Gladbach really likable. Is that a conscious part of the company culture here?
I think that Borussia Mönchengladbach has always been seen as being like Asterix's little village that stood up to the world. In the 1970s we took on Europe's biggest cities and enjoyed amazing success, both domestically and internationally. In that phase we were successful, with a good image of working with young players. We were refreshing, courageous and we liked to score goals.
That gave the club a great image back then and we want to keep that going. We want to be likable, we want to work together with young players, we also want to stay in touch with our fans. That's important too.
When we were fighting to avoid relegation in 2011 we played against Bochum. As we started to get nervous in the 60th minute our fans didn't start to whistle or get irritated. They really cheered for us and in the 94th minute we scored. The fans helped us avoid the drop. That's what I mean with the interplay between fans and the club. That has to happen, and we want it to continue.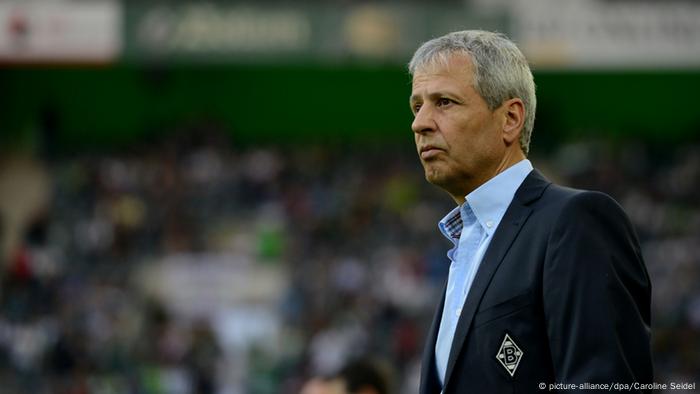 Lucien Favre is the right man for the job at Borussia Mönchengladbach, says Eberl
Andre Hahn recently said that, even though he had lots of offers, it was clear to him that he should join Borussia Mönchengladbach. Why would he have said that do you think? What makes players want to come here?
I have to ask Andre what he meant by that. I would say that I realized that he felt comfortable here and he saw possibilities for himself. Perhaps his steep career path from Offenbach, to Augsburg, then to Mönchengladbach meant that he thought that going to a Champions League was a "step too far," so to say.
He's 24 years old and he probably saw that young players are encouraged here and that they get great support. He would have seen that people are euphoric about their club, whether they are coaches or work somewhere else, and this would have given him an emotional link to the club. The financial incentive would have played a role but the competition would have also been offering things. The main thing is: can you "emotionalize" someone to join the club? I think that is what happened in Andre Hahn's case.
Do you actually know all the names of your employees here at Gladbach?
We have grown in size considerably in the last few years, but I would say I definitely know all of our employees here. Mostly I know their first names, but not always their last names. I always know their first name though, that's for sure.
Max Eberl has been sporting director at Borussia Mönchengladbach since 2008. In his active career, he played a solitary game for Bayern Munich and also represented Germany at the 1993 FIFA World Youth Championships in Australia.