For Berlin-based Maxim Nitsche, 19, math is like a game of chess: It's impossible to advance without fully understanding the rules.
The former chess champion and private tutor co-founded an iPhone app with his younger brother - when both were 15 and 14, respectively - to help fifth through twelfth-grade students master numbers through a series of illuminating and interactive problems.
Now their MATH 42 has, at times, been the most downloaded educational app in Germany and the US and currently counts 700,000 users worldwide. It was part of Apple's Best of 2013, deemed as one of the most innovative learning apps.
"My brother and I gave private math lessons for five years, and every kid was asking the same questions," said Maxim, who doubles as an entrepreneur and university student seeking three degrees in economics, mathematics and philosophy.
Users can plug in an equation into the app and receive a series of detailed and step-by-step solutions on how to solve it. They can also take an analytics test to determine their individual strengths and weaknesses within math's different areas.
The Nitsches' age is only a few years above their target user group. Yet the app has been utilized by anyone who seeks an innovative approach to solving math problems - including parents - and can't necessarily foot the bill for private tutoring.
"With MATH 42, we want to democratize education and give everyone a chance," said Maxim.
The youngest businessman in the room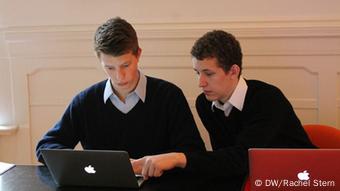 The brothers live and work together on the app out of their apartment
Maxim, who describes himself as being blessed with the gift of gab, handles the product pitching for the two brothers.
"It's strange to go to meetings with guys with a billion in their bank accounts, who talk to you like you're on the same level," said Maxim, who recently returned from business trips to New York and Paris, taken during breaks between his classes at Berlin's Technical University.
But the biggest sell was to their father, an investor himself as well as a mathematician and engineer. He requested a business plan from his sons before he would help them get their idea off the ground.
So the teenagers spent half a year devising a complex plan, consulting with Sequoia Capital and copiously combing through business books.
"Our father was not only surprised, but impressed," said Maxim.
Although the app itself is free, it's already making a profit, mostly through partnerships with other big education companies and publishers.
"We have self-financed the company for more than three years," said their father, Thomas. "This has given us a lot of flexibility concerning the focus of development."
Not just one path to solve an equation
Maxim's eyes lit up as he demonstrated the steps of solving a problem on MATH 42. Users are provided with a variety of ways to solve the equation they enter, such as "simplify expression" or "factor expression."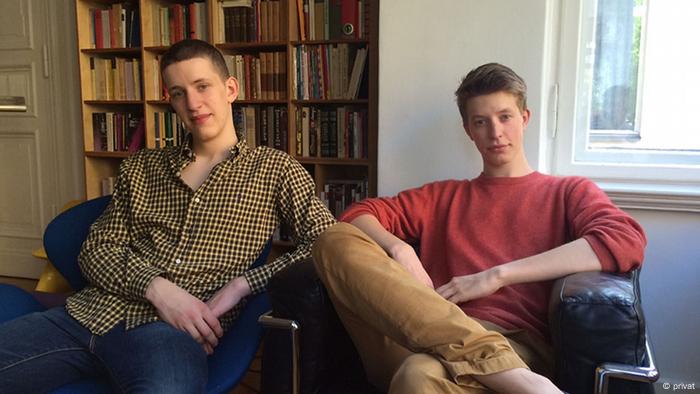 The brothers used to be rivals but now are good friends
"Only when [students] understand, can they reiterate," said Maxim.
"The largest challenge students face is to understand ideas and concepts that are fairly abstract, in order to be able to use them in upcoming and unknown problems," said Raphael, the younger of the two brothers.
As every student is different, they each have different mathematical questions they ponder and steps they don't understand, said Raphael. MATH 42, therefore, presents hierarchical step-by-step solutions.
That means that if a student doesn't understand a specific step, they can dive deeper into it and examine the sub-steps of the sub-steps - down to "4+1=5."
Tapping into new markets
By early 2015, the brothers plan to launch an edition of the app for Android and PC. It's currently available in four languages, with Russian and Chinese to follow suit. The app will also soon target college students, thanks to more complex functionality.
The brothers are also rewriting the app's code to make it more user-friendly.
"It will save us a lot of time over the coming months and years because we will be able to implement additional functionality much faster than before," said Raphael.
People have asked Maxim if there's anything left to accomplish, now that they've launched a successful app at such a young age.
"This is just the beginning of something, not the end," said Maxim. "My brother and I always had the dream to leave a mark."