New York police responded to a "mass stabbing" at an Orthodox rabbi's house in the suburb of Monsey during Hanukkah celebrations late Saturday.
Five victims were transferred to the hospital. Two remain in critical condition, according to the Orthodox Jewish Public Affairs Council.
Local police said the perpetrator fled the scene but that they were able to track him down. He has since been taken into police custody and charged with five counts of attempted murder and one count of burglary, police said.
Authorities have not yet released further information on the suspect's background or his motives.
"Horrific," New York City Mayor Bill de Blasio said of the stabbing. "So many Jewish families in our city have close ties to Monsey. We cannot overstate the fear people are feeling right now. I've spoken to longtime friends who, for the first time in their lives, are fearful to show outward signs of their Jewish faith."
Israeli Prime Minister Benjamin Netanyahu condemned the incident as a "brutal attack in the middle of the Hanukkah holiday."
"We will cooperate in any way with local authorities in order to uproot this phenomenon," said Netanyahu.
Read more: Anti-Semitism on the rise in the EU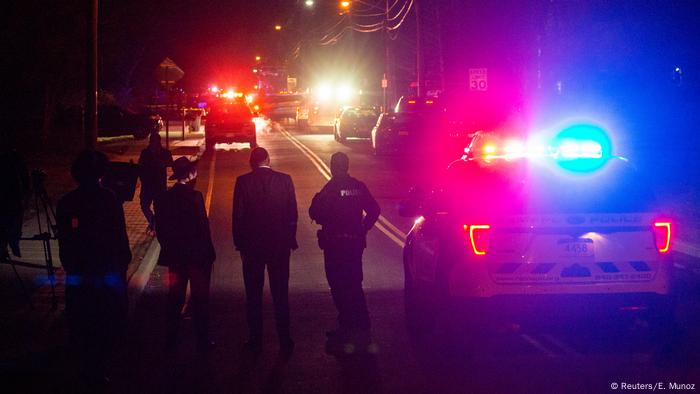 Additional police were also deployed to parts of New York City with Orthodox Jewish communities following the attack
'Zero tolerance'
New York Governor Andrew Cuomo later instructed the state police's hate crimes task force to investigate the attack, describing it as an act of "domestic terrorism"
"This is an act of terrorism. I think these are domestic terrorists. They are trying to inflict fear," Cuomo told reporters, referring to a series of anti-Semitic crimes in the past few weeks.
Monsey, an area with a large population of Orthodox Jews, is about one hour north of New York City. In and around New York City, police have received at least six reports of attacks in recent days with suspected anti-Semitic motives.
New York Attorney General Leticia James said she was "deeply disturbed by the situation unfolding in Monsey."
"There is zero tolerance for acts of hate of any kind and we will continue to monitor this horrific situation," James said in a tweet.
The Hanukkah attacks follow on the heels of an hours-long shootout at a kosher grocery store in the neighboring state of New Jersey that killed four people earlier this month. Authorities said the attack was fueled in part by anti-Semitism.
Read more: Moscow chief rabbi: Europe is 'forgetting the past'
ls/sms (AP, AFP, dpa)
Every evening, DW sends out a selection of the day's news and features. Sign up here.