The Revolutionary People's Liberation Front announced online that one of its female militants carried out Monday's attack, naming Hatice Asik, who was arrested and taken to hospital after being shot by police.
"The American consulate at Istinye was struck by people's warrior Hatice Asik," the group, known as DHKP-C said, adding that the United States was the "chief enemy of people in the Middle East and in the world."
"Our struggle will continue until imperialism and its collaborators leave our country and every parcel of our homeland is cleared of US bases," the announcement continued.
The attack comes as Turkey opens its southeastern Incirlik air base to US fighter jets to carry out bombing raids against "Islamic State" (IS) targets in Syria.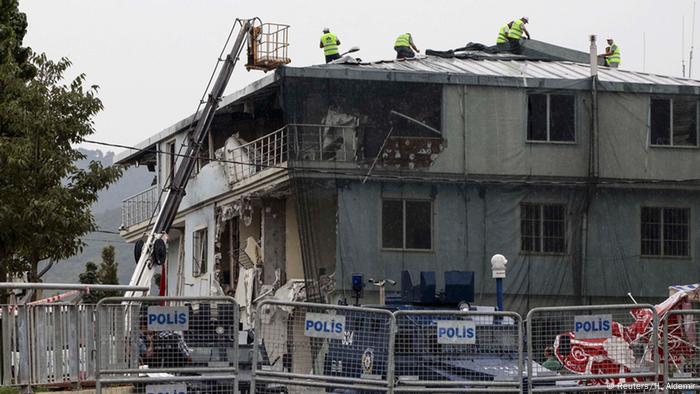 The blast at the police station went off in the middle of the night
Istanbul police station
On the other side of the Bosphorus in the early hours of Monday, a bomb blast ripped through an Istanbul police station, leaving three officers and seven civilians injured, security sources said.
As police arrived at the scene of the attack, a firefight erupted claiming the lives of two assailants and a police officer, reported broadcaster CNN Turk.
The Istanbul governor's office said on Monday that the Kurdistan Workers' Party (PKK) was behind the attack on the police station.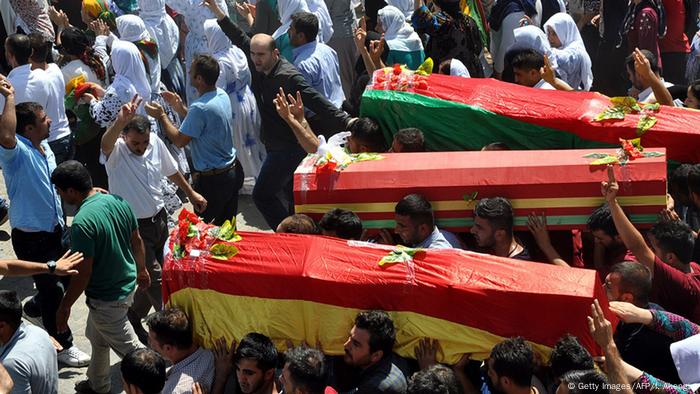 Violence is ongoing between security forces and the PKK in Silopi
Restive Sirnak
In Turkey's restive southeastern province Sirnak, Kurdish militants killed at least four police officers in a roadside attack.
The attack occurred in the town Silopi, where Turkish security forces and PKK militants have been battling for days.
A feeble ceasefire between the Kurds and the Turkish government has fallen to the wayside after Turkey launched airstrikes against Kurdish and "Islamic State" positions in Iraq and Syria in July as part of its "synchronized war on terror."
Turkish President Tayyip Erdogan in late July dismissed the peace process between Turkey and the PKK, saying "it is not possible for us to continue the peace process with those who threaten our national unity and brotherhood."
glb/rc (AP, AFP, Reuters)