Germans seem to be seeking comfort in the words of Karl Marx as the global economic downturn buffets Europe's largest economy.
Last autumn, with the crisis in full swing, publishers sold some 4,500 copies of Das Kapital. In 2005, that figure was just 750.
"At the moment, Marx is probably the most widely read of the socio-theoretical classics worldwide," Heinz Bude, a sociologist in Hamburg told Deutsche Welle.
Making Marx more accessible
The Marx renaissance has also reached the audio book sector. A first abridged volume of Das Kapital containing six CDs with over six hours of Marx's theories is now out on the German market.
Marx's most famous book is also considered one of the most difficult and dense works on economic concepts of the 19th century.
Publisher Margit Osterwald said the audio book, prompted by last year's global economic meltdown, is an attempt to make Marx's weighty work more accessible.
"Everyone was talking about Karl Marx - not just in business newspapers but also among my friends," Osterwald told Deutsche Welle.
The 65-year-old admitted that she had never read the work herself despite belonging to Germany's 1968 student movement generation for whom Marx's cult book was considered required reading.
Striking a chord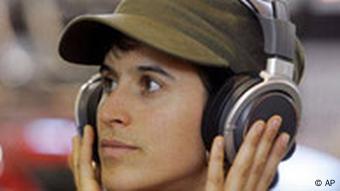 Don't want to wade through Marx? Listen up
Some say Marx's words have struck a chord particularly with people frustrated with what are seen as the excesses of the banking world.
The German political economist described capitalism as an exploitative system driven by greed and the need for material gain. Characterized by periods of boom and bust, Marx wrote that the system lets the "rich get richer, and the poor get poorer."
He was convinced that this cycle would lead capitalism to eventually destroy itself. In its place, Marx argued that the state should hold the economic reins and introduce rules to abolish social class and bring about equality and an end to poverty.
New relevance among younger readers?
Joern Schuetrumpf from the Berlin-based Karl-Dietz publishing house, which prints Marx's most famous work, believes it is mostly young readers fuelling the rise in sales.
"We are dealing with a completely different generation here," he said. "For the last twenty years, you could see something of a cold war against young people by a society that sends out signals that say - 'we don't need you, you need to look after yourselves.'"
In an attempt to find answers to the problems created by their elders, Schuetrumpf believes that these disillusioned youngsters have turned to reading.
The renewed interest in Marx's works have also led to the creation of Marx reading groups in several cities in Germany, providing a forum in which the philosopher can be read and discussed.
Reinterpreting Marx
But sociologist Heinz Bude, who has held a seminar on Marx's renaissance at the University of Kassel in central Germany, cautioned that the Marx's works needed to be interpreted in a new light.
Bude said Marx could no longer be read as a theorist of socialism and equality. These ideas, he said, "have left a long criminal trail in human history."
Instead, Marx needs to be read as a theorist of freedom, Bude said - as one who can today show people that they should never accept the current world order but rather keep looking for better alternatives.
Author: Christel Wester (as)
Editor: Sonia Phalnikar