At least 76 people were killed and 200 wounded in the attack on Thursday. The truck detonated in the Jameela market in the Iraqi capital's crowded Sadr City neighborhood shortly after dawn, according to two local police officers. Some of the wounded were listed as in critical condition, Al Sumaria television reported, with the death toll likely to rise.
The "Islamic State" ("IS") released an online statement in which the Sunni Muslim militant group said it had targeted the army and militia fighters in the Shiite neighbourhood.
IS commonly target military checkpoints or predominantly Shiite neighborhoods such as Sadr City, with the goal of sending a message to the Shiite-dominated government in Baghdad.
The incident is one of the largest attacks on the capital since Prime Minister Haider al-Abadi took office a year ago.
Residents of the Shiite community rushed to help the victims, sending the wounded to local hospitals in ambulances or in personal cars.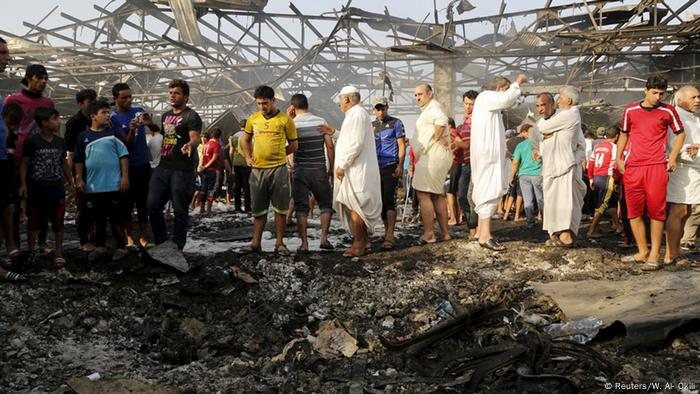 Residents gather at the site of the truck bomb
Fire trucks and ambulances rushed to the scene and firefighters were dousing the still-smoldering complex with water long after the explosion. "On Thursdays the market is especially crowded because people come from the other provinces to stock up on food for the weekend," one of the officers said.
Last month, 'IS' targeted a popular market in the eastern province of Diyala, killing more than 115 people in one of the worst-single attacks to tear through the country in a decade.
The Sunni militant group currently holds territory in about a third of Iraq. They view Shiite Muslims, as well as other religious minorities, as apostates. Iraqi forces are constantly battling to drive the jihadists back with support from a US-led coalition and Iran.
dr/kms (AP, AFP, Reuters)