- The UK increased its threat level from severe to critical
- Salman A., a 22-year-old Manchester resident, named as the suspected attacker
- Police raided two districts of south Manchester, arrested a 23-year old man
- The so-called "Islamic State" (IS) claimed responsibility for the attack
- Thousands of people have taken part in a vigil held in Manchester's Albert Square
British authorities raised the country's terrorism threat level to "critical" on Tuesday, after a suspected suicide bomber killed 22 people at a concert on Monday evening. At least 59 people were wounded in the attack, including teenagers and children.
May said the new level suggests that further terrorist attacks "may be imminent."
"It is a possibility we cannot ignore that there is a wider group of individuals linked to this attack," Prime Minister Theresa May said on Tuesday evening in an address from Downing Street. Home Secretary Amber Rudd said on Wednesday it "seems likely" that the suspect was not acting alone.
May announced that members of the armed forces would replace the armed police usually used to protect strategic points, allowing the police to significantly increase the number of armed officers on patrol in key locations. Up to 3,800 troops were to be deployed.
"You might also see military personnel deployed at certain events such as concerts and sports matches, helping the police to keep the public safe," May said.
Suspect identified
Greater Manchester Police Chief Constable Ian Hopkins said authorities believe the attack was carried out by 22-year-old Salman A., but declined to go into further details because he had not been formally identified.
"The priority remains to establish whether he was acting alone or as part of a network," he said. Interior Minister Amber Rudd said on Wednesday that the suspect was known to security services before the bombing.
British election data shows Salman A. as being a resident of a home in Fallowfield. British media reported that he was born in the UK to parents of Libyan descent. There were media reports on Wednesday that he only returned to Manchester from Libya in the days before the attack.
-Theresa May condemns suicide bombing as 'worst of humanity'
-Manchester and the world show solidarity with concert attack victims
-World leaders condemn Manchester attack
IS claims responsibility

The "Islamic State" (IS) militant group claimed responsibility for the attack, which it said had been carried out with a device that was planted at the arena. However, IS is known to make such claims even when it has not had direct involvement in planning and orchestrating specific terror attacks.
Police carried out two raids in the Whalley Range and Fallowfield areas in the south of Manchester. A controlled explosion was conducted to gain entry to a residence in Fallowfield.
Thousands of people attended a vigil held on Tuesday evening in Manchester's Albert Square.
DW's Lars Bevanger reported from the scene.
Eyewitness reports
Concert attendee Majid Khan, 22, told The Guardian newspaper a bomb-like bang went off as people were exiting the 18,000-capacity venue, leading to a mass panic. "Everyone was in a huge state of panic, calling each other as some had gone to the toilet whilst this had gone off, so it was just extremely disturbing for everyone there," he was quoted as saying.
Video posted on Twitter showed panicked fans streaming out of the venue where mainly young people were watching a concert by US pop singer Ariana Grande.
Concertgoer Catherine Macfarlane told the Reuters news agency: "Everyone was screaming and people were running. It was a huge explosion - you could feel it in your chest. It was chaotic. Everybody was running and screaming and just trying to get out."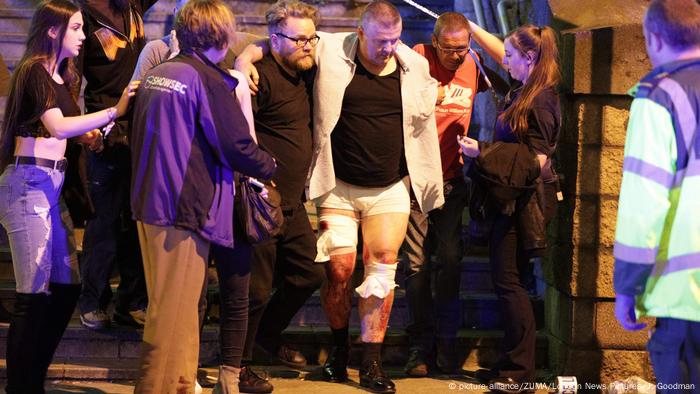 Witnesses described panicked crowds rushing the exits
One eyewitness said metal nuts appeared to have been packed into the explosive device. The BBC has reported that people were treated for "shrapnel-like injuries." The Manchester Evening News said staff at Wythenshawe Hospital in South Manchester told people without life-threatening injuries to leave the emergency room.
Victims named
At least 12 children under the age of 16 were injured in the attack.
On Wednesday, the Foreign Office announced two Polish citizens were among those killed and another among those injured.
Among those killed was Georgina Callander, whose death was reported by her former school. The school described her as a "lovely" and "very popular" young woman.
Also killed was 8-year-old Saffie Roussos, whom a teacher called "simply a beautiful little girl in every aspect of the word," who was warm, kind, "and unassuming, with a creative flair." Her mother and sister were wounded in the attack.
Evil act
There was ​condemnation of the attack from around the world, with flags flying at half mast in Berlin and Brussels.
The mayor of Manchester, Andy Burnham, said the city would show resilience in the face of the attack.
"These were children and young people and their families that those responsible chose to terrorize and kill," said Burnham. "This was an evil act. We are grieving today but we are strong. Today it will be business as usual - as far as possible - in our great city."
British Home Secretary Amber Rudd called the incident "a barbaric attack, deliberately targeting some of the most vulnerable in our society - young people and children out at a pop concert."
The US singer Ariana Grande has wide appeal among a young audience, after finding success on the children's TV channel Nickelodeon. Early Tuesday morning, Grande spoke of her sorrow on Twitter, saying she was "broken."
Local residents offered their homes up to people affected by the incident using the hashtag #RoomForManchester.
Manchester police set up an emergency number for those involved in the blast.
Manchester was previously targeted by terrorists in June 1996, in a bomb attack that leveled a section of the city center. More than 200 people were injured in that attack, carried out by the IRA, although there were no fatalities.
Editor's note: Deutsche Welle follows the German press code, which stresses the importance of protecting the privacy of suspected criminals or victims and obliges us to refrain from revealing full names in such cases.