The Maldives political turmoil deepened Tuesday with the arrests of its chief justice, Abdulla Saaed, and fellow judge Ali Hameed, and then backtracking hours later by their three colleagues.
The trio said the Supreme Court's order of last week that political prisoners be freed had been rescinded Tuesday "in light of the concerns raised by the President."
"[President Abdulla] Yameen has used coercion to get the original decision revoked," said Hamid Abdul Ghafoor, spokesman for the opposition Maldivian Democratic Party (MDP).
Read more: State of emergency declared in Maldives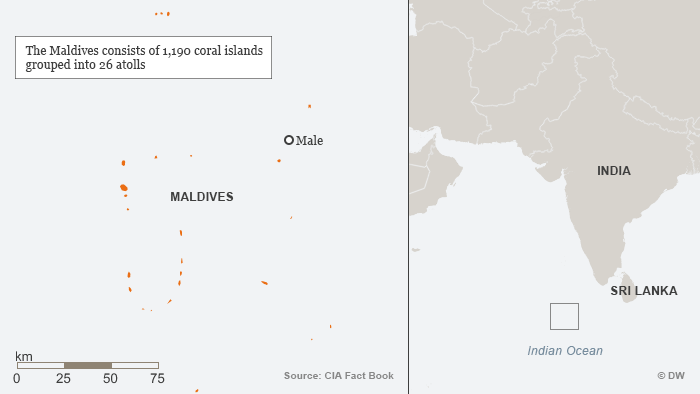 On television, Yameen had told the Indian Ocean nation — known abroad as an holiday paradise — that the court's original order obstructed "the very ability of the state to function" and claimed it "disrupted the systems of checks and balances."
The court's original February 1 decision signed by all five justices had quashed a terrorism conviction against the nine, including former President Mohamed Nasheed, who is in exile in Sri Lanka.
Yameen's declaration of a 15-day state of emergency prompted expressions of concern on Tuesday from India, the Maldives' ocean neighbor.
New Dehli said it was considering a "full range of options," including "tough measures" against Yameen's government. Some policy analysts, however, said India did not want to be seen as meddling.
UN Secretary General Antonio Guterres urged the Maldivian government to lift the state of emergency as soon as possible.
The safety of all, "including members of the judiciary," must be ensured, said a spokesman for Guterres.
Yameen has led an escalating crackdown on dissent since coming to power in 2013 by imprisoning or forcing into exile nearly every politician who opposes him.
The Maldives has fewer than 500,000 citizens. More than a third living in the crowded capital, Male.
In travel advisories the USA, Australia and Denmark told their citizens to be cautious. China urged its nationals to avoid travel to the Maldives.
ipj/rt (AFP, dpa, AP)