North Korea's ambassador to Kuala Lumpur, Kang Chol, was asked on Monday to account for remarks where he accused Malaysia of "colluding and playing into the gallery of external forces."
Chol made the comments at a press conference on Friday following the death of Kim Jong Nam, the half-brother of North Korea leader Kim Jong Un on Malaysian soil on February 14.
"The Ambassador...insinuated that...the Malaysian Government had 'something to conceal,'" a Malaysian foreign ministry statement said.
It added that any criticism of Malaysia's handling of Jong Nam's death was "baseless" and that it took "very seriously any unfounded attempt to tarnish its reputation."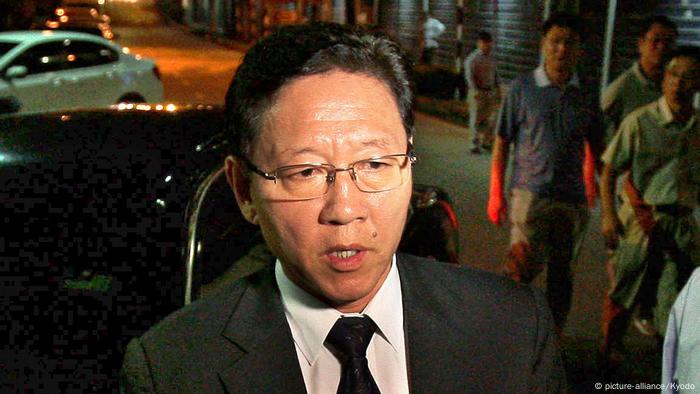 Pyongyang's ambassador to KL Kang Choi has been critical of Malaysia's handling of the investigation into Jong Nam's murder
Kang also said on Friday that Pyongyang would "categorically reject" the results of any postmortem conducted without its permission.
Video footage emerges
Forty-five-year-old Kim Jong Nam died after a substance was apparently sprayed into his face as he prepared to board a plane to Macau at Kuala Lumpur International Airport. He suffered a seizure and died before arriving at hospital.
Security camera footage shown on Japanese television appeared to show Kim being attacked by a woman who came up from behind him and held something over his mouth. Another woman is seen approaching him from another direction.
Fuji TV has not revealed how it acquired the footage, the authenticity of which has not been confirmed.
Manhunt for several people
Four people have been arrested in connection with his killing. Police believe four others fled the country on the day of his death.
Kim Jong Nam was once thought to be the natural successor to his father, the then-North Korean leader Kim Jong Il. But after Jong Il's death in 2011 the succession went instead to his younger half-brother Kim Jong Un.
Following the ensuing spat, Malaysia recalled its ambassador to Pyongyang for consultation, the ministry said.
Wednesday for autopsy results
Meanwhile, Malaysia's health minister said on Monday that the autopsy results for Kim Jong Nam's body could be released within two days.
"We are talking about the normal period of time to complete most post mortem and give results," Health Minister Subramaniam Sathasivam told reporters in response to a question about when results would be released.
Reuters news agency has reported that the son of Kim Jong Nam is to arrive in Kuala Lumpur late on Monday. Malaysian authorities have said they will release the victim's body to next of kin.
mm/bw (AFP, dpa, Reuters)