Text: Nina Molter, DW Akademie
Kamau Wandungu grew up in Mathare, the second largest slum in Nairobi, Kenya. He got his first taste of drama while acting in a local school play and was encouraged to pursue an acting career. Today he is a writer and producer with his own production company, Tililiz. Wandungu first gained his know-how by taking part in One Fine Day Films workshops as well as a Good Karma Fiction workshop on soap operas. The trainers were all international experts aiming to strengthen Africa's film industries by building skills, professional networks and infrastructure.
The trainers taught him how to view his work from a different perspective and gave him "the confidence to sit down and actually write a story," he says. "I've since done two short films which I wrote, directed and produced on my own."
The courage to experiment
According to the UN World Population Prospects, Africa has the world's youngest age distribution. Africa also has the fastest-­growing TV market.
As the demand for local stories continues to grow, new channels, such as online streaming services, are also finding an audience. DW Akademie and its partners are using this potential to support filmmakers in producing films and TV series that are not only financially viable but also focus on topics relevant to their viewers.
Wandungu recently had the chance to co-produce the pilot for Good Karma Fiction's new soap opera. Called "Country Queen," it deals with current topics ranging from land grabbing to the urban-rural divide. The main character is a woman who lives in the city but goes back to save her village after a mining company threatens to grab it.
Films, TV shows and soap operas often reach a much wider audience than fact-based formats. They can promote public debates about sensitive issues and counteract a society's fragmentation.
Wandungu admits that he and his team were not initially enthusiastic about getting involved in a soap opera but said that this changed when they started working with James MacSill, a writer from Brazil. "He talked about the characteristics of soap operas and gave us pointers on how to write good scripts and develop characters."
It's all about quality
Still, digitization has also increased competition, making it tough for African filmmakers to reach audiences. "It's always been a challenge, but it's more difficult now," says Wandungu. "Our country is exposed to Netflix and people won't accept mediocrity anymore."
This means that filmmakers need to deliver quality productions and develop their own voice. Wandungu is convinced that focusing on local stories is the way to get ahead. "The audience gets something that is truly Kenyan — a soap opera, for example — 
that is written by Kenyans for Kenyans. It's a reflection of our society and that's what the market is yearning for," he said. Quality productions also have better chances in the international market.
According to Wandungu, an even bigger challenge for Kenyan filmmakers is the bureaucracy involved and a lack of experience in accounting and administration. Also missing, he adds, are investors willing to provide long-term funding.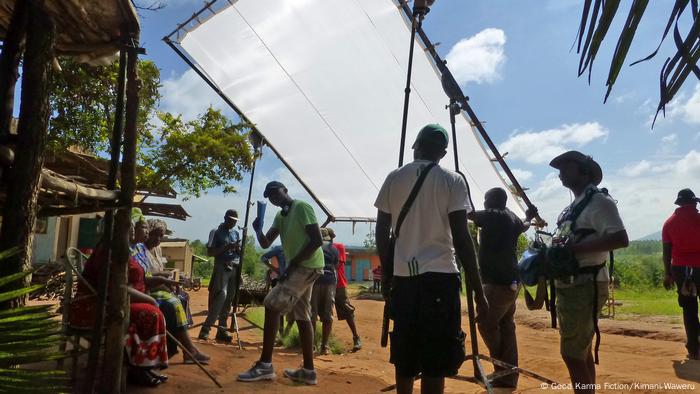 Film production in Africa (Good Karma Fiction/Kimani Waweru)
One step at a time
These challenges are not unique to Kenya. Tiny Mungwe, a filmmaker and producer from South Africa, works for STEPS, a non-profit organization that uses documentary to give a voice to marginalized and disadvantaged communities. One of their documentary projects is Generation Africa, supported by DW Akademie. Mungwe and the STEPS team bring in documentary professionals from around the world to train and coach filmmakers.
"There are few support structures for filmmakers who want to make films across colonial boundaries that exist between ­English-speaking and French-speaking African filmmakers," she points out.
One approach by Generation Africa is to "focus on the lived experiences of young people here. These films will build an audience for filmmakers," she says, adding that it can change how Africa is conventionally portrayed. In terms of the film sector's overall development, she added that the key is to network across country borders because they can learn so much from one another. "There is great potential in building sustainable models for inter-African co-production and collaboration," says Mungwe.
Film production in Africa
DW Akademie, funded by Germany's Federal Ministry for Economic Cooperation and Development (BMZ), and its partners have been supporting and training African filmmakers with a number of projects. DW Akademie has been working with the One Fine Day Films production company co-founded by German film director Tom Tykwer. More than 1,400 filmmakers from 21 countries have since been trained and seven feature films produced.
In 2013, director Volker Schlöndorff initiated the Rwanda Media Project and with the support of DW Akademie, it offers master classes for filmmakers and a vocational training program for media designers. In a two-year pilot project, DW Akademie is also developing a global film fund to strengthen freedom of expression through film and TV productions. In 2018, DW Akademie launched four pilot projects for different formats together with Deutsche Film- und Fernsehakademie Berlin, Filmakademie Baden-Württemberg, Good Karma Fiction and STEPS.
Monday, May 27 | 2:30 – 3:30 p.m. | ROOM Addis Abeba II
And action: Film for media development
Film support as media cooperation is the focus of this workshop, which features the work that DW Akademie has done in Africa with the support of the film industry. The results aim to strengthen the economy in these countries while presenting an African perspective on various themes for a global audience.
The session is co-hosted by Germany's Federal Ministry for Economic Cooperation and Development (BMZ).
SPEAKER
Waltraud Ehrhardt, Good Karma Fiction
HOST Edward Micah Jr., Africa Desk, DW
BU
The superhero drama "Supa Modo" was produced as part of the FilmAfrica! project run by DW Akademie, BMZ and One Fine Day Films