World number one Magnus Carlsen became the second-youngest chess world champion in history on Friday, falling just short of the record set by his former coach Garry Kasparov in 1985.
Carlsen claimed the title, and $1.53 million (1.13 million euros) in prize money, in a tense draw on Friday where reigning champion Anand needed to win.
"Vish has been the world champion for so long, he's one of the greatest of all time," Carlsen said in a post-match press conference in Chennai, India. "I'm of course very, very happy to have got the better of him."
The 22-year-old from Norway never lost to Anand in the series, and won games five, six, and nine - including two impressive victories playing black. Originally scheduled to last 12 matches, the score of 6.5 to 3.5 after 10 games left no hope of a series turnaround for Anand.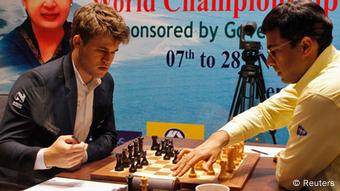 Anand was not able to beat Carlsen in 10 games
The final game lasted almost five hours, incorporating 65 moves, and finally finished in a draw when only the two kings remained on the board. This was because etiquette prevented Carlsen offering a draw to his opponent in the decisive contest, until it was apparent Anand did not have the pieces to win.
Anand rues mistakes
India's Anand, 43, had held chess' top honor ever since 2007. He apologized to his fans for a string of mistakes during the series.
"As for the match in general it's clear that he dominated. At the start of the match I thought my chances depended on my ability to last long games without making a lot of mistakes," Anand said. "This year I've had a lot of problems with mistakes creeping into my play."
Carlsen was broadly considered the favorite heading into the match, not least owing to his runaway lead atop the World Chess Federation's rankings list and high praise from his former mentor Kasparov.
"Congratulations to Magnus for his victory! He continues to shatter the highest expectations with his skill and tenacity. Three cheers!" Kasparov wrote on Twitter after the contest.
The Norwegian, known for a fast and aggressive style of play that was less apparent in Friday's marathon encounter, is also the first player not to hail from Eastern Europe or Asia to claim the chess world championship since American Bobby Fischer, dethroned in 1975.
msh/ph (AFP, dpa, SID)