Thousands of rain-soaked and weary mainly Syrians, Iraqis and Afghans fleeing bloody conflicts crammed into rail cars and buses Sunday to bring them a step closer to western and northern Europe.
Many of them had earlier arrived by boat in EU member country Greece but are seeking to join established communities in prosperous EU states such as Germany, Sweden and the Netherlands.
The mass movement came after police in Macedonia reopened the country's southern frontier with Greece on Saturday, enabling the thousands of people who had been stuck there to travel north through the country towards Serbia from which they seek to enter Hungary and thereby the EU and Schengen passport-free travel zone.
Emina, a war refugee from Syria who boarded an early morning train with her two-month-old baby, complained that Macedonian authorities had shut the border and then not provided refugees stranded inside the no-man's land with food or water.
"It was very hard in Macedonia," she told the AP news agency. "I did not sleep or eat for three days. Just as we arrived to the border, they closed it. It was awful."
A long slog through Serbia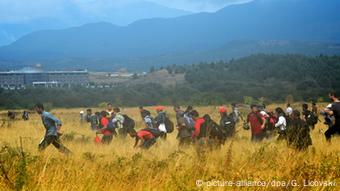 Migrants who waited more then 48 hours on the Greek side of the border line, flee across a field Saturday after jumping over razor wire to cross into Macedonia
By mid-Sunday, more than 6,000 people had crossed into Serbia where eight UN refugee agency tents were set up in the border village of Miratovac, providing food and shelter from the chilly weather, Amet Alimi, president of Presevo Red Cross, told AFP.
"We have worked all night to admit them. There is a flow of people who keep coming," Alimi said.
Rostom Mohamed said he arrived in Greece after travelling from Iraq with his wife and three children. He said they had paid 4,000 euros ($4,550 dollars) to smugglers for a boat transport from Turkey to Greece, adding that three people had died on the journey.
"I want to go to Germany for work. I want to be safe and live like a human being. That's why I choose to come to Europe," Mohamed told the AFP news agency, as his family was waiting to enter Macedonia and continue northwards.
'Europe's worst humanitarian crisis since 1945'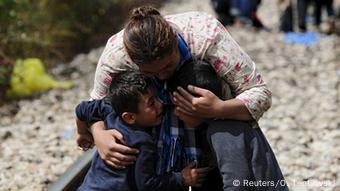 A woman hugs two boys Saturday after crossing Greece's border into Macedonia
Europe is in the midst of the worst refugee crisis since World War II. A record 107,500 people seeking asylum crossed into the EU last month, a figure which looks set to increase, EU officials said.
In Berlin, Vice Chancellor Sigmar Gabriel and Foreign Minister Frank-Walter Steinmeier issued a joint call for Europe to "fairly" share out the refugees in an article published in Sunday's "Frankfurter Allgemeine" newspaper.
They also called for a "European asylum code" that would guarantee bloc-wide asylum status for incoming refugees.
jar/se (AP, AFP, Reuters)