Lufthansa marks not its birthday on April 1, but rather its rebirth. The company's history actually dates back to 1926, when the airline was founded in Berlin. Following the end of World War II, the company was completely liquidated by the Allies.
But 10 years later with the special permission of the Allies, the newly founded Deutsche Lufthansa AG took to the skies again, with 17 passengers on board a Convair 340.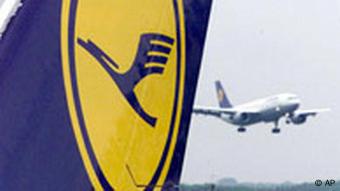 The Lufthansa crane
The one thing that has remained the same over Lufthansa's entire history is the symbol of the crane in flight in the corporate colors of blue and yellow -- but that's about the only thing.
Keeping fit
Today, with around 90,000 employees and more than 50 million passengers in the last year alone, Lufthansa is one of the world's largest airlines. The carrier continues to be on expansion course, having just announced its takeover of Swiss International Air Lines in a deal worth up to 310 million euros ($409 million).
On its 50th year in operation, Lufthansa could well be expected to show its age, perhaps even carry a bit of excess weight? Not so, according to Lufthansa CEO Wolfgang Mayrhuber, who refers to a "fitness program" that keeps the company lean and efficient.
The only downer at Friday's party is the airline's catering subsidiary, LSG Sky Chefs. Lufthansa's core passenger business recovered from the crisis it suffered following the Sept. 11, 2001 attacks, thanks to Mayrhuber's strict regimen of savings. But Sky Chefs had to cope with enormous losses in the US, sending thousands of staff on unpaid leave.
Some of Lufthansa's other subsidiaries have fared better. IT subsidiary Lufthansa Systems Group, which went from simply being the airline's computing department, to becoming an internationally recognized IT provider in the past decade, is considering entering the stock market.
"Globally, we're a leading provider in the airline and aviation business," said the group's managing director, Peter Franke. "We have tripled not just our turnover, but also our number of employees."
Diversification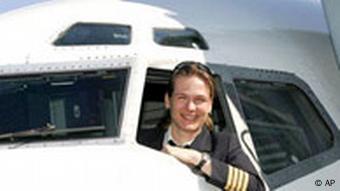 Lufthansa owes much of its success to the development of its business divisions: Lufthansa Cargo for logistics, Technik for maintenance and repairs, Sky Chefs for catering, Thomas Cook for travel, and Systems for IT services. But the passenger business is still the company's core -- one that has benefited tremendously from formation of the Star Alliance network of carriers.
Corporate headquarters are still in Cologne, even though the majority of pilots, flight attendants and ground staff are based at Frankfurt airport -- Germany's international hub.
"We're very grateful that Lufthansa and the very successful Star Alliance are here. The success of Frankfurt airport is to a large extent due to Lufthansa's entrepreneurial vision," said Wilhelm Bender, head of Fraport.
Lots to offer VIPs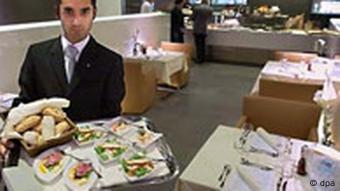 Gourmet food awaits passengers using Lufthansa's new first-class terminal
In recent months, Lufthansa has been expanding its first-class services with improved seating, limousine service to and from the aircraft, and a new first-class terminal at Frankfurt Airport which one company spokesperson said was more "luxury hotel than airport lounge."
To mark its 50 years in operation, Lufthansa is operating a special cross-country flight for its CEO and invited guests in an Airbus A321 from Hamburg to Munich, via Düsseldorf and Frankfurt, with parties at each stop along the way.