The court case on Germany's 2010 Love Parade disaster will bring such massive interest that it will be held inside one of Germany's biggest convention centers, authorities announced on the disaster's seventh anniversary on Monday.
The Prosecutor's Office and the District Court Duisburg told relatives of victims from China, Australia, Italy, the Netherlands and Spain details of the case as they gathered to commemorate the deadly stampede.
Read more: Love Parade criminal trial will go ahead, court rules
Exactly seven years ago, 21 people died and 650 people were injured as hundreds of thousands of techno fans hit a bottleneck at one of the tunnels leading into the Love Parade festival grounds.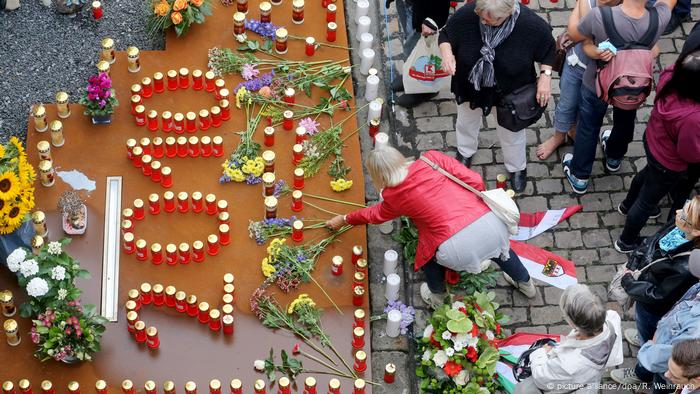 Hundreds of victims, relatives and friends gathered on Monday to pay their respects
As people attempted to move in both directions through the tunnel, people began to panic.
Nineteen people either suffocated or were trampled to death at the scene, while a further two victims died in the hospital.
Read more: Timeline of the Love Parade tragedy
It was not until April 2017 that a court case to find out who was responsible for the disaster was approved. Ten people will face involuntary manslaughter charges in a trial due to start in December and will be held in Congress Center Düsseldorf.
Read more: 'I'm always looking for an emergency exit,' Love Parade survivor says
People gathered at the site of the crush on Monday afternoon to remember the incident that shocked Germany. The Karl-Lehr-Tunnel was lined with candles and flower wreaths.
"The past is not dead, it is not even forgotten," said Jürgen Thiesbonenkamp, spokesman for a foundation set up after the event.
Manfred Reißaus, who lost his then 22-year-old daughter Svenja in the crush, said the memorial event was an "important and emotional moment."
Duisburg Mayor Sören Link told public broadcaster WDR that he hoped the criminal proceedings would find answers, but warned it might be difficult for the courts. The trial was nevertheless "important for the relatives, for many affected persons, but also for many employees of the city of Duisburg," he said.
The court must reach a close before the summer of 2020 or lose its jurisdiction, given the applicable statute of limitations.
aw/kl (EPD, dpa)