Almost seven years after the deadly stampede at the Love Parade techno music festival in Duisburg, a court in nearby Düsseldorf announced Monday that a criminal trial against 10 festival organizers and city employees should go ahead.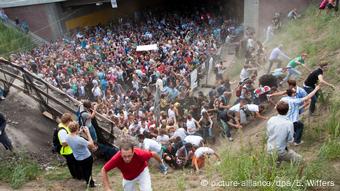 Panic broke out at the festival venue in 2010
The 10 defendants, four staff of festival organizer Lopavent and six Duisburg city administrators, face charges including negligent manslaughter and causing bodily harm.
The higher court overruled a local court which had rejected the trial last year on the basis that there was likely not enough evidence for the prosecution to be successful. It ruled that there was a "sufficient probability" of convictions and that the lower court had set "overly high demands" of the chances of conviction to make its decision.
In the July 24, 2010 disaster, 21 people were trampled to death in a mass panic as the narrow entrance tunnel to the venue, a former railway yard, became a lethal bottleneck. Hundreds of concertgoers were injured.
Read more: 'I'm always looking for the emergency exit,' Love Parade survivor says
The tragedy deeply impacted Germany and sent shockwaves throughout the world. The victims who died came from six countries as well as Germany. But many questions about what caused the tragedy and who was responsible remain unanswered. Several civil cases have gone to court during the past seven years.
Prosecutors, victims' lawyers welcome decision
The Düsseldorf court's judgement was welcomed by public prosecutor's office in Duisburg.
"The decision provides victims and their relatives with the certainty that a legal review of the disaster will soon come to a public trial," prosecutors said in a statement on Monday.
Victims' lawyers were also quick to welcome the ruling. Professor Thomas Feltes, representing of a father whose daughter was killed, told German news agency dpa his clients could not understand the initial decision not to go to trial.
"Back then it was a slap in the face for the victims, now they are relieved."
Lawyer Bärbel Schönhof, who represents several of the victims, said: "It must be made clear what happened, where mistakes were made."
The Düsseldorf court dismissed several key aspects of the lower court's judgment, including ruling that evidence from British expert Keith Still - which had been criticized as deficient by the lower court - was admissible.
It will now be up to the Duisburg court to set dates for the criminal trial.