A new playground in London's Hyde Park features six pieces of sports equipment designed specifically for senior citizens, in order to provide them with gentle exercise. It's been signposted Hyde Park Senior Playground, although younger users will not be banned from entering.
Set against the beautifully imposing spire of the Albert memorial and nestled between tennis and bowls courts, the free facility can certainly boast an enticing location.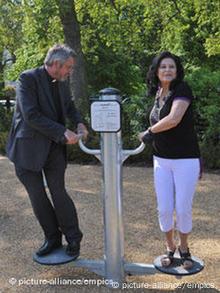 Madeleine Elsdon, right, came up with the idea for the playground
"I'm quite impressed. I like it very much and I think a lot of people will use it," said Tony, 68, one of the playground's curious customers. "I think it's important for anybody over 60 to do things other than walking."
Madeleine Elsdon, a member of the local Knightsbridge Resident's Association, first came up with the idea for the playground when Westminster council offered a grant of 40,000 GBP (48,000 euros) for a project that would benefit local residents.
"We all had to put forward ideas to spend the money, some people came up with the idea of hanging baskets, some people wanted to have a tea party, but I wanted to do something that should be permanent, something that would be of benefit for residents and visitors to London and which would last forever and lead the way," Elsdon told Deutsche Welle.
While senior-friendly play areas and activities such as tai chi are a well-established feature in countries like China, Europe seems to be lagging behind. Senior playgrounds have only slowly started cropping up in countries like Germany and Spain over the last three years, and this one in Hyde Park is the very first of its kind in the British capital.
Gyms intimidating for many seniors
"I think older people have been quite undervalued in the past," Elsdon said. "As people get older and money gets a little tighter as they retire, they can't afford to join fancy gyms. And gyms are very intimidating for older people, with all the equipment that needs to get adjusted, the surround-sound music and all those firm, young bodies exercising next to you pumping iron!"
Elsdon travelled to a specialist company in Denmark to handpick the six pieces of equipment, including a cross trainer, a body-flexer, and a sit-up bench. The machines are easy to use, with a focus on gentle cardiovascular exercise as well as core strength and balance training. Doctor Richard Ferguson of the School of Sport, Exercise and Health Sciences at Loughborough University, stressed the importance of this type of exercise later in life.
"Much of the physical activity guidelines that are coming out that are geared towards offsetting cardiovascular disease really need to be focused on the prevention of falling and should include things like resistance or strength training, which doesn't seem to be very much thought of in older people," said Ferguson.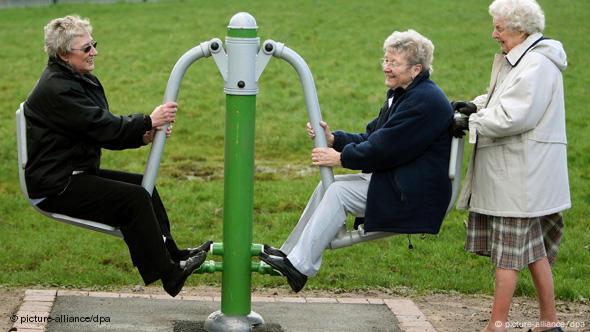 Other parks in Britain, like this one in Manchester, also have areas for pensioners
Gentle sport and social contact
But for Elsdon, going to the playground is just as much about social contact as it is about the physical activities.
"Lots of older people are very isolated, they sit at home, they watch TV, they don't go out, and this is free to use. They can use their bus passes, so they can jump on the bus, come up here, have half an hour on the machines, meet other people, and have a good laugh. I think it's very beneficial for both body and mind," she said.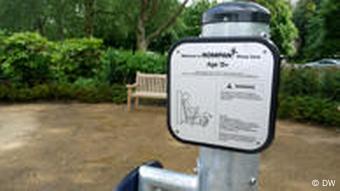 Each piece of fitness equipment comes with detailed instructions on how to use it
According to Britain's Office for National Statistics, there are now more people aged 60 and above in the UK than there are under the age of 16. Elsdon hopes that in leading by example, this playground will be a sign of things to come.
"I hope that we will have playgrounds for pensioners in every park, just as we have playgrounds for children in every park," she said. "I think there are five playgrounds for children in this park, so they've got their space - it's the oldies' turn now!"
Author: Sarah Stolarz/dc
Editor: Mark Mattox