DW: What do you know about the current status of Liu Xia?
Jared Genser: We know very little. Unfortunately, since July 15, she has been disappeared by the Chinese government. There are rumors circulating about where she might be and what's going on, but she hasn't been in touch with her closest family, friends or her counsel, her lawyers - either in China or myself in the United States.
So we are incredibly worried about what is happening with her. The Chinese government has claimed that she is "free." But it's quite clear that she is not free. And this is why last week we lodged a formal complaint to the United Nations Working Group on Enforced or Involuntary Disappearances.
What can we expect to achieve from this formal complaint to the UN?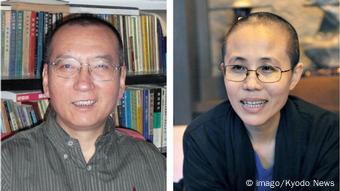 Liu Xia (right) is the widow of the late Nobel Peace Prize laureate Liu Xiaobo
It's a lengthy process and one that doesn't give any quick answers or solutions. Nevertheless, it is an important process to undertake. What will happen is that the UN will process the complaint and send a specific request for a reply from the government of China, and then any reply will be sent back to me for comment as well. The process can be relatively fast, depending on if the government responds, or slower if it does not.
But what we would end up doing next if we don't receive a response from the government of China, and if we continue to not know her location and condition, is to proceed to file a new complaint to the United Nations Working Group on Arbitrary Detention. We will describe the fact that she has been disappeared. We believe, based on all the available evidence, that she has been detained by the Chinese government and request that the United Nations finds that she is being held illegally and in violation of international law.
Have you heard anything from the UN or the Chinese government so far?
No, we haven't heard anything from them so far.
Since 2010, you have been serving as lawyer for Liu Xiaobo and Liu Xia. How could you get in contact with them at the time?
I began representing Liu Xia by being put in touch with her directly. She was then looking for international counsel for her husband. At that time, he was not a Nobel Peace Prize laureate, and she had a mobile phone like many Chinese nationals and I was able to get in touch with her directly in the months running up to the announcement of the Nobel Peace Prize. I got to know her over a number of months prior to the announcement of the prize and her being placed under house arrest.
Did you meet any of them before the arrest of Liu Xiaobo?
I never met Liu Xiaobo. He was already imprisoned and was only allowed at the time visits by his wife, not by their lawyers. I didn't get an opportunity to meet Liu Xia in person before she was placed under house arrest but I had a number of phone calls with her, in substantial detail and also coordinated with their local lawyer with regard to our complaint that we were going to be filing at the United Nations regarding Liu Xiaobo's arbitrary detention.
But how have you managed to get hold of first-hand information from them, given their arrest?
While Liu Xia was under house arrest in earlier years she was allowed to see her parents once a month before they passed away. And here and there a journalist was able to break through the security cordon and interview her very briefly before they would have to run. But it was very sporadic that I was able to get information to her and from her.
To be clear, when I was hired to represent her, I was given very clear instructions that my goal was to do everything possible to get her husband out of jail. Similarly we discussed before the announcement of the Nobel Peace Prize what might happen if he won and the fact that she might be detained. She made a decision to stay in China to be close to her husband. That was her decision to make, even though she understood that there were going to be serious risks.
She made that decision and I promised that I would do whatever possible, no matter how long it might take to get her out of China.
Unfortunately, freeing her husband was not possible, he died of liver cancer. And now my focus is getting Liu Xia out and there is no justification for her detention. She is never been charged with any crime and she has been held for seven years without charge or trial.
The Chinese government claims she is "free," so she should have no problem communicating with anyone she wants to and no problem obtaining a passport and travelling abroad.
This is one of the more unique cases you have taken as a counsel. What is different with this case?
The cruelty that has been heaped on Liu Xiaobo and his wife and family has really been astonishing and extraordinary. Liu Xiaobo did nothing wrong. He was sentenced to 11 years in prison for inciting subversion of state power, but his crime was to be the first signatory on Charter 08, the pro-democracy manifesto that called the Chinese government to transfer the one-party system to a multi-party democracy. He paid a very high price for that. In China today, the Chinese government is incredibly insecure; it spends more annually – about $140 billion – on its domestic security budget, compared to $130 billion on its military budget.
That demonstrates unequivocally that the Chinese government is more afraid of its own people than they are of external threats. That plays out in how they treat dissidents.
Liu Xia herself has suffered enormously under house arrest. She is in a one-bedroom apartment in Beijing with no access to internet or telephone and basically forced to live by herself with no access to the outside world.
Under those circumstances, it's not a surprise that she has suffered serious depression, that she has had a heart attack and her health has been rapidly deteriorating. There is no basis in law in China for her detention and she desperately needs the world's help to be freed
There is a proposition to rename the plaza in front of the Chinese embassy in Washington to Liu Xiaobo plaza. You are also a supporter. What is the current status of this campaign?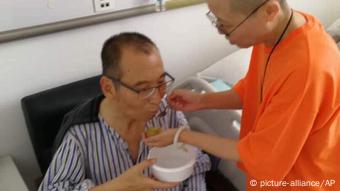 Liu Xiaobo being cared for by his wife while hospitalized with liver cancer
I think people are waiting to see what might happen with the Chinese government. The Chinese government is very upset about this. I don't have any particular interest in renaming the street, what I do care about is getting Liu Xia out of China along with her brother because both of them have suffered enormously.
The plaza is a means to an end. China is trying to erase Liu Xiaobo from the world's collective memory. The renaming of the street is an effort to make clear to the Chinese government that the impunity with which they are treating Liu Xia is not going to be tolerated and if the Chinese government were to allow her and her brother to leave China, my own efforts on behalf of advancing Liu Xiaobo plaza would come to an end.
If they are going to continue her incommunicado, then we will do whatever is necessary to highlight what the Chinese government is doing. If the US government were to rename the street I would expect many other countries around the world to follow.
I have made a very personal commitment that I would continue to fight on her behalf until she was free. The work that I have taken on pro-bono for more than seven years will only come to an end once she is out of China.
The interview was conducted by Mu Cui
Jared Genser is Managing Director of Perseus Strategies, LLC. He is also founder of Freedom Now, an independent non-governmental organization that works to free prisoners of conscience worldwide.