"I have only one explanation for the presence of polonium," Dmitry Kovtun said, referring to the radioactive substance found in Litvinenko's dead body and subsequently detected in properties visited by Kovtun in Germany.
"It is that I brought (traces of) it back from London, where I met Alexander Litvinenko on Oct. 16, 17 and 18," Kovtun told German television program "Spiegel TV."
"The traces stay a very long time and when you then travel around the world, it leaves traces all along the way," he added, speaking by telephone from a clinic in Moscow, where he is being treated.
Kovtun is one of three Russians who met Litvinenko at a London hotel on Nov. 1, the day the former FSB agent and fierce critic of President Vladimir Putin became fatally ill. He died in hospital on Nov. 23.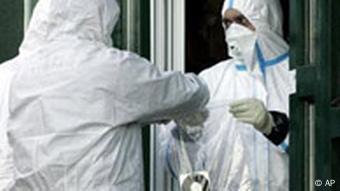 Germany's probe has identified traces of polonium in several places in Hamburg
Kovtun's claim conflicts with reports by British police investigating Litvinenko's death. They reportedly found no radiation on a bus Litvinenko used to get to the hotel and believe he was not contaminated before the meeting.
Kovtun said in another interview he expected to be released from the Moscow clinic where he is being treated within 10 days.
"The doctors say that the situation has stabilized and that my health is recovering. I expect to be in hospital for between a week and 10 days," he told Russia's Channel One television station.

Commotion in Hamburg


Earlier on Tuesday, German authorities said four people close to Kovtun had not suffered radiation contamination, despite an earlier police report that the four had shown signs of it after Kovtun had stayed at their home in Germany. The ex-wife of the businessman, her two small children and current boyfriend were given the all-clear after undergoing tests in a hospital in Hamburg, Gerald Kirchner of the Federal Office for Radiation Protection told German radio.
Kovtun is being investigated for bringing polonium 210 into Germany in late October, when he passed through the country on his way from Moscow to London. He told "Spiegel TV" he felt guilty for having been the cause of commotion in Hamburg.
The discovery of the substance in Germany has widened the British-led investigation into Litvinenko's death. A Scotland Yard detective flew to Hamburg on Monday to meet German police. British detectives have also traveled to Moscow to question Andrei Lugovoi, a business associate of Kovtun, who was also at the meeting with Litvinenko at London's Millennium Hotel.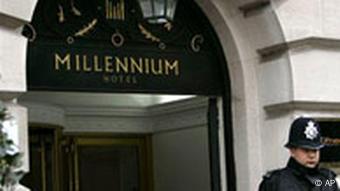 British police are focusing on the Millenium Hotel in London
British police are reported to be increasingly convinced that the poisoning took place at the hotel.
Litvinenko claimed from his deathbed that he had been targeted by Putin and the murder mystery has prompted fresh allegations that the Russian authorities are using dirty tricks to silence their critics.
Russia has strongly denied having any role in the murder.
Polonium poses no poisoning risk unless it enters the human body through ingestion, breathing or via a wound and British health authorities have stressed that the danger of contamination to the general public is negligible.