Singing isn't one of Christoph Graebel or Claudius Niessen's fortes, but that hasn't stopped the inventors of the literature show "Turboprop" from belting out its opening music once a month for the past three years.
But one look at the stage the bottle of beer and quiz books on the stage, and it's clear this is no ordinary book reading. Writing contests for the audience, well-rehearsed skits and guessing games punctuate the two-hour session along with a healthy dose of the hosts' dry humor.
"Glass of water readings"
"We had the idea because we were allowed -- and sometimes forced -- to attend readings and noticed fairly quickly that the regular ones, which we named 'glass of water readings,' can be completely boring," Graebel said of the events he and Niessen attend as students at the German Literature Institute in Leipzig (DLL).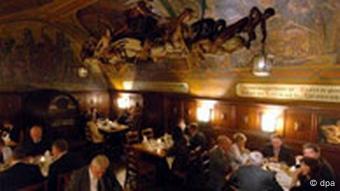 German literary upstarts aren't meeting in Auerbachs Keller anymore
Falling asleep during a "Turboprop," where every show has a special guest presenting a book or at least a couple of new lines, is hardly likely -- even when the expected guest cancels a couple of hours before show time, and the student duo is forced to improvise its with the help of Leipzig's poetry slam master Julius Fischer.
Starting point for German writers
Shows like "Turboprop," Fischer's "Live-Lyrix" and other gallery and club performances and exhibitions aim to develop a contemporary German-speaking literary subculture in Leipzig for the quiet months when Leipzig Book Fair's doors are closed and the city is not full of visiting authors.
"Leipzig is a musical city, Leipzig is a city of Bach -- that I can understand," Niessen said. "On the other hand, of course I also think it would be great if Leipzig were to present itself not only as a city of books, but maybe more as city for modern literature. Leipzig as the quasi-uncrowned queen of German-language literature."
But Niessen and Graebel said they've decided not to wait and hope the Leipzig Tourist Board picks up the ball. Instead they're using "Turboprop" as a stepping stone for up-and-coming young authors and point to Clemens Meyer, whose novel was celebrated at this year's Leipzig Book Fair. He read at "Turboprop" two years before his book could be found on bookshelves around Germany.