A German theater caused a scandal just by announcing the line-up for an event on the Surge of Right-wing movements across Europe, shortly before it was cancelled after a public outcry against one of the invited guests.
For a debate on the surge across Europe, the theater of Magdeburg had invited not just Saxony-Anhalt's minister of the interior, Holger Stahlknecht, but also Götz Kubitschek. As the owner of a small right-wing publishing house and head of a think tank, he is one of the central intellectual figures of Germany's New Right, a nationalist conservative movement. The event would have marked the first time a "mainstream" German politician would have shared the stage with Kubitschek, who has close ties to both the populist AfD party and the the anti-democratic, white nationalist Identitarian movement.
Sharing the stage with an extremist
The tax-funded public theater of Magdeburg received criticism for giving Kubitschek a platform as did Stahlknecht, a member of the moderate conservative CDU.
The minister initially defended himself, saying that his intention was to face people like Kubitschek head-on. "I don't want to shy away from a debate," he argued. "My intention is not to help Kubitschek's cause, I just want to use the opportunity to directly confront him, to negate his political views and show that they are a danger to our democratic society."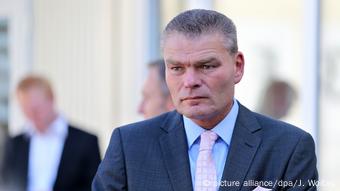 Holger Stahlknecht argues that he does not want to shy away from debates with extremists
Less than a day after the event was announced, the state chancellery cancelled Stahlknecht's participation in the event. A spokesperson said that a theater would not be the right place for this type of debate. The theater in turn cancelled the event, saying that a balance of opinion could no longer be assured without the minister's participation.
The fear of radicalization
With the rise of the anti-Islam Pegida movement and the populist AfD in Germany, many experts and left-wing activists have been worried about a shift to the right. Kubitschek is part of the German-right-wing media industry. While outlets, like the magazine Compact and the blog Politically Incorrect News, agitate their readers with broad anti-Islam and nationalist headlines like "An Islamist in the living room – wake up Germany!" or "Who's making money with the asylum junk in Saxony", Kubitschek's publishing house, think tank and blog display a more intellectual, subdued tone, aimed at conservative elites.
A wolf in sheep's clothing?
Sociologist Dennis Eversberg from the University of Jena says that the rate of people in Germany who hold racist and extremist sentiments has not grown significantly in the past few years. But the AfD party and the anti-Islam Pegida movement have provided outlets for many people, since they are perceived as less extreme than prefvious neo-Nazi organizations, like the NDP (National Democratic Party). Eversberg is worried that views that were once seen as too extreme are increasingly perceived as acceptable standpoints. "Giving someone like Kubitschek a platform at this point is extremely dangerous, because it legitimizes him," he says. "The only way to fight the surge of the right is to ostracize them and to argue against their views, not with them."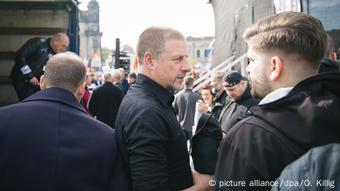 Götz Kubitschek at a Pegida demonstration in Dresden
Simone Rafael is the editor in chief of netz-gegen-nazis.de, an online platform against right-wing extremism. Like Eversberg, she believes that inviting Kubitschek to a public debate sends the wrong message. "We have to ask ourselves: If we seek out the dialogue with ring-wing extremists, what message does that send to people who are threatened by that ideology?"
Not the first controversy
This is not the first time a scandal has erupted in Germany over the inclusion of right wing activists in a debate. This summer, a school in Rostock caused a stir when two politicians from the AfD and the NPD were invited to an event as part of a class on right-wing extremism. Both politicians had previously been criminally convicted, one for hate speech, one for demagoguery.
In January of this year, the Greens and SPD threatened to boycott TV debates if the AfD was included ahead of six state elections – with success. The premier of Germany's most populous state, North Rhine-Westphalia, Hannelore Kraft, also said that she would not visit TV panels with AfD-politicians.
Christian Lindner, head of the Free Democrats (FDP), in turn called Kraft's statements undemocratic. He argued that the AfD should be included in public debates because the party lacked substance, so that one should "give them as much room as possible to embarrass themselves."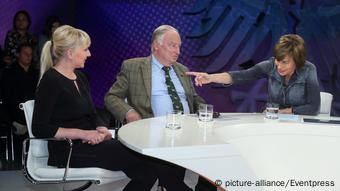 AfD-Politician Alexander Gauland on the popular German talk show "maybrit illner"
The fear of another 1933
In Germany, where Hitler came to power less than a hundred years ago through systematically dismantling the young democracy from within, the question of whether including actors such as Kubitschek, in the democratic discourse, looms large.
For Raphael, inviting Kubitschek to a public event weighs graver than including AfD politicians with seats in parliament in a debate because he has not been democratically elected.
Hajo Funke, an expert on Germany's right-wing movements, says he is not categorically opposed to including right-wing populists in public debates - for him, it depends on the individual activist and what the format of the discussion is like. He draws the line at Kubitschek, though."I would not agree to a public debate with someone like Götz Kubitschek, whose strategy borrows from Italian neo-fascism," he says."If someone holds views that extreme, we shouldn't give them a stage or share a stage with them."