British law professor Bob Watt from the University of Buckingham is leading an independent group which claims that the Brexit campaign was so misleading it broke the law.
Watt's group of academic, lawyers and citizens has written to the UK's Director of Public Prosecutions (DPP) alleging that "false statements" were made that were "knowingly misleading," in the run up to the June 23 referendum.
A divisive four-month campaign saw Britons decide to renounce the country's membership of the European Union.
EU fees claim 'was false'
The group's complaint centers on a claim by those who campaigned for Britain to leave the EU, that 350 million pounds (392 million euros) per week could be spent on the National Health Service (NHS), instead of being sent to Brussels.
Despite that figure being debunked by the Office for National Statistics, an Ipsos MORI poll found that nearly half of Britons believed the Vote Leave claim, reported the "Independent" newspaper. The Leave campaign was repeatedly rebuked by the UK Statistics Authority for claiming the UK paid the EU 350 million pounds a week.
Watt has also complained that the two main Leave campaigns suggested that Turkey would soon join the EU and that Britain had no control of its borders while it remained in the EU.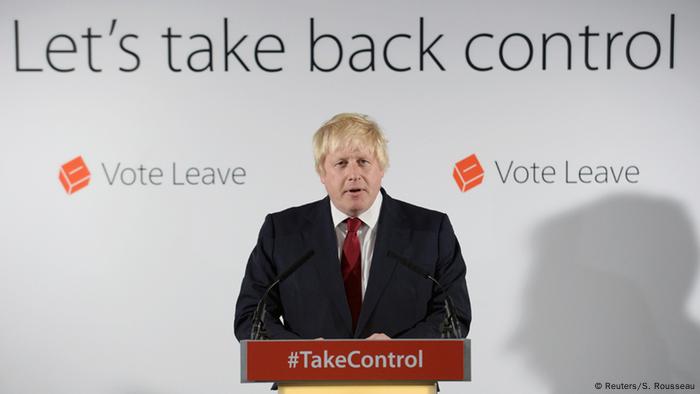 Vote Leave campaign leader Boris Johnson is now Britain's Foreign Secretary
Although most criminal cases are passed from the police to the Crown Prosecution Service, the DPP can consider cases of election offences even when directly referred, "The Guardian" newspaper reported.
A Crown Prosecution Service (CPS) spokesman told British media: "We can confirm that this letter has been received and we are currently considering its content."
Under the 1983 Representation of the People Act, it is illegal to have an "undue influence" on voters.
Another legal challenge to be appealed
Also on Monday, the British government said it would appeal this week against a High Court ruling that the prime minister cannot start the process of leaving the EU without parliament's approval.
"It's likely that any hearing will be scheduled in the Supreme Court in early December," Brexit minister David Davis told parliament just days after Thursday's shock ruling.
"This timetable remains consistent with our aim to trigger Article 50 by the end of March next year," he said, referring to the formal step to begin negotiations with the EU.