Polls have started to close across Mexico's three summer time zones, as Mexicans cast their ballots in Sunday's presidential election.
Andres Manuel Lopez Obrador, a former Mexico City mayor and anti-establishment outsider, has maintained a commanding lead in opinion polls throughout a campaign marred by more than 100 murders of politicians by suspected drug gangs.
Mexico elections at a glance:
More than 3,000 offices are up for grabs, including 500 seats in the Chamber of Deputies, 128 in the Senate and eight governorships.
Lopez Obrador faces a challenge from former Chamber of Deputies president Ricardo Anaya, who is seeking to appeal to young voters — about 40 percent of the electorate.
Five-time minister Jose Antonio Meade is the candidate for outgoing President Enrique Pena Nieto's Institutional Revolutionary Party (PRI).
Corruption and a steep rise in murders by the country's powerful drug cartels are the main issues among voters.
More than 88 million people are eligible to vote in what are Mexico's biggest-ever elections, with voter turnout being described by officials as "massive."
Read more: Mexico fighting endless war against cartels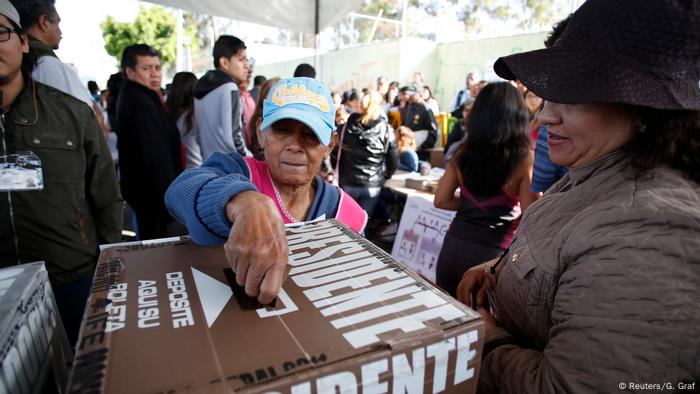 Mexico's electoral institute has said voter turnout has been "massive"
'Impossible proposals'
Lopez Obrador was one of the first lined up to vote at his polling station in Mexico City, saying "today the people will decide between more of the same or a real change." He was joined by some of his supporters, who turned out early to cast their ballots.
His rivals Ricardo Anaya and Antonio Meade both said they were expecting to be celebrating when polls close later Sunday.
Pena Nieto told reporters at the polling station that his administration would be "absolutely respectful and support the authorities that are elected."
Juan Carlos Limas, who cast his vote at another Mexico City polling station to vote for Ricardo Anaya, said he was worried by some of Obrador's promises, including a "transformation" of Mexico and scholarships or paid apprenticeships to youth, and increase support payments for the elderly.
"I am concerned that some candidates are making proposals that are impossible, because they're very expensive to carry out," said the 26-year-old.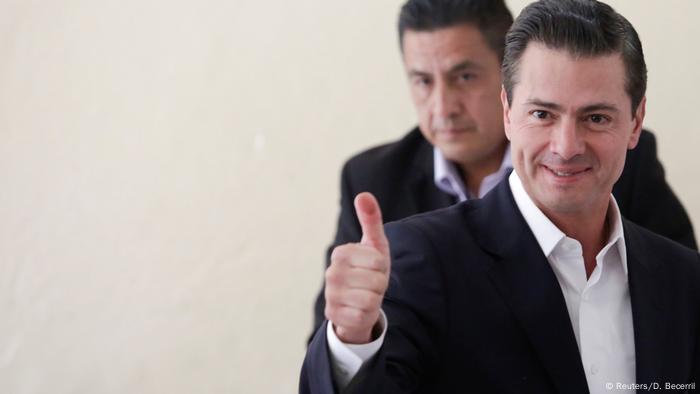 Current Mexican President Enrique Pena Nieto and his party have come under fire for unpopular economic reforms
Sharp-tongued politician
It's the third shot at the presidency for 64-year-old Lopez Obrador, who finished runner-up in the 2006 and 2012 elections.
The sharp-tongued politician has tapped voters' anger against a political class whose credibility has been hit by widespread corruption, soaring crime levels and years of modest economic growth.
Rivals warn that Lopez Obrador's interventionist economic policy could set the country back decades.
Political activist killed
The murder of a political activist on Sunday cast a shadow over the polls. Flora Resendiz Gonzalez, a Workers Party activist, was reportedly shot dead as she was leaving her home in Contepec in western Michoacan state, local media reported.
Her death highlighted the brutal violence and corruption that have angered voters in Mexico, adding to what was already considered to be one of the most violent electoral campaigns in the country's history. An estimated 145 politicians have been killed since September.
rs, ap/ng (AP, Reuters, dpa, AFP)