On Tuesday, Lebanon's army officially confirmed the arrest of a Syrian or Iraqi national thought to be the second of "Islamic State" (IS) leader Abu Bakr al-Baghdadi's multiple wives - he is reported to have at least three. Security officials variously said that the military had arrested the woman and a child either at the Syrian border or inside northern Lebanon. According to news agencies, officials were conducting DNA tests on the child to confirm that the IS leader's suspected wife was in fact the child's mother.
The claims by media outlets have proved sketchy, but it appears the woman and child were captured about 10 days ago in the border region. The Lebanese newspaper As-Safir reported that she had been traveling with a fake passport. Investigators were questioning her at the Lebanese Defense Ministry, according to that newspaper.
Alongside al-Qaeda-linked al-Nusra Front, IS fought Lebanon's forces in Arsal and around the border in August. The groups have held more than 20 Lebanese soldiers and police officers since then and have demanded the release of prisoners held by authorities in Beirut. On Monday night, al-Nusra Front threatened to kill one of the soldiers it holds captive.
Both Sunni-dominated groups oppose the Lebanese Shiite Muslim movement Hezbollah, which sides with and militarily aids the autocratic Syrian President Bashar al-Assad in that country's civil war, which has left more than 200,000 people dead in over three and a half years. Hezbollah has reportedly played a key role in successful regime offensives in the central province of Homs and in the Qalamoun mountains bordering Lebanon.
Crack in 'caliphate'
If confirmed, the arrest would be a blow to the IS leader, who earlier this year led his militia to seize a swath of northern Syria and western Iraq, declaring a "caliphate" over the area it holds. Last month, Baghdadi called for an expansion into other Middle Eastern nations.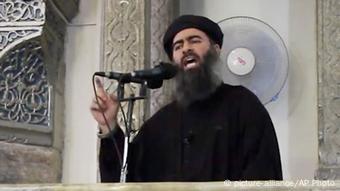 Baghdadi's improbable career path took him from criminal to caliph
A recent UN report found that the IS was committing war crimes on a "massive scale." The group was previously known as the Islamic State in Iraq and Syria before changing its name over the summer. The organization has gained notoriety for its brutal executions of prisoners as well as its attacks on religious minorities and imposition of an extreme interpretation of Islamic law.
The US placed Baghdadi on its terrorism watch list in 2011 and has since announced a bounty of $10 million (8 million euros). The country is also leading a 60-nation coalition in airstrikes on IS. Early last month, it was thought that one of the attacks might have killed Baghdadi, but doubts have been cast on that after an audiotape of the IS leader emerged.
mkg/mg (Reuters, AFP, dpa, AP)