Edgar Martinez knew that he wanted to study in Germany ever since he was in high school. The German language has inspired the 20-year-old American so much that he left Chicago, his home town, to study Business Administration in the rather small town of Marburg in central Germany. "This language stimulates me intellectually, and I want to make it part of my life," says Martinez. "Studying here has just been a perfect fit".
Allan Liversidge, on the other hand, was not very happy with his decision. After completing his Bachelor's degree in history, he left Wisconsin for Bonn to pursue a Master's degree. Though filled with hope at the start, studying Germany upset him. He was very disappointed at how little support he received from teachers outside of lectures and seminars."I felt left in the lurch, and I had to leave," Liversidge says. In 2014, the 23-year-old dropped out of Bonn University and is still finding a way out.
Martinez and Liversidge are two of a growing number of Americans who decide to study in Germany. The number of students coming from the US has hit a record high, increasing from 2,817 in the academic year 2003/04 to 4,359 a decade later, with a significant increase of 54.7 percent. The fact that American students come all the way to Germany despite the high-ranked universities in their own country speaks to the growing popularity of German institutions of higher education.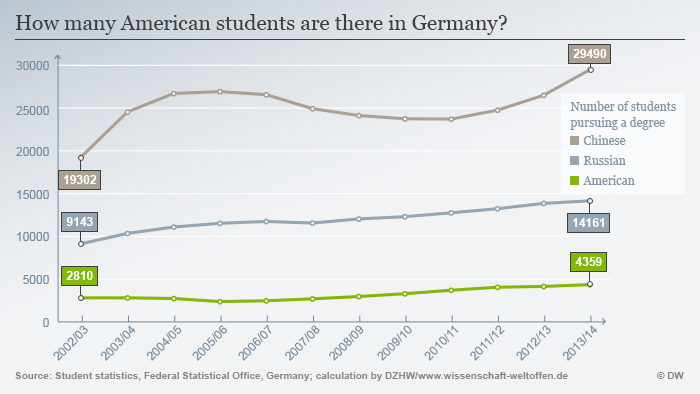 According to the new publication "Wissenschaft Weltoffen 2015," released by the German Academic Exchange Service (DAAD) and the German Centre for Research on Higher Education and Science Studies (DZHW) on July 22 this year, Germany has become the third most popular host country for students to pursue their studies after the US and the UK. Why would the US students choose Germany when they can enjoy high-quality education at home, without going through the trouble of learning a new language and adapting to cultural differences?
Quality "Made in Germany"
When asked for the main reason why he has come to Germany, Martinez' answer was clear: the quality of education. "I've only done two semesters, and I already have a good idea of what I want to do with my degree," he says. "I get the feeling that studies here are more directed in comparison to what I hear from my friends back home."
Prof. Margret Wintermantel, president of the DAAD, agrees that quality is the key selling point for American students. "The teaching quality […] was highlighted as important for 96% respondents" in a DAAD survey, Wintermantel tells DW. "Germany's higher education landscape primarily consists of internationally well-ranked public universities."
Besides, the fact that more and more courses are offered in English and that the higher education system with its Bachelor's and Master's degrees is universally compatible, have made it easier for international students to study in Germany.
Degree for free
But the above reasons leave out one key factor: the myth of the "free degree" from Germany has enormous appeal for American students. Compared to the US, the cost of a degree in Germany is extremely low.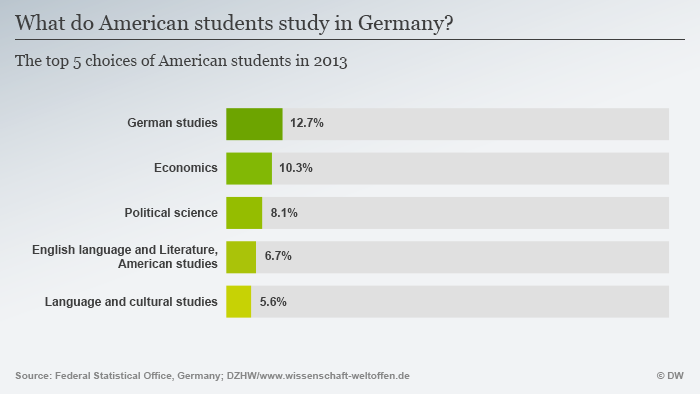 Studying at a public university in Germany is free, except for some small fees like those covering the cost for a semester ticket for public transport. According to the British company Quacquarelli Symonds (QS), which publishes the "QS World University Rankings" every year, tuition fees at the top-ranked US universities amounted to between 41,000 and 45,000 dollars (38,000 to 41,500 Euros) in the 2014/2015 academic year.
As such, the cost for one year of study in USA already exceeds the average amount of money a student in Germany needs for a whole degree – around 25,800 Euros for Bachelor students and 16,200 Euros for Master students, according to statistics from the German federal statistical office.
For Martinez, cost was not the most important factor for his decision, but he likes that college doesn't cost anything in Germany. "This idea of free education resonates with the way I see the world," he says. "It actually motivates me to work even harder to do well here."
'Education isn't a one-way street'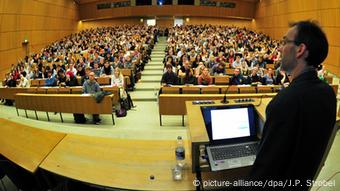 For Liversidge, it was impossible to have any individual meetings
But all the advantages of studying in Germany were not enough to get Liversidge through his studies.
"I couldn't deal with having zero communication with my teachers," he says. "It was almost impossible to arrange one-on-one sessions with any of (the professors). Education isn't a one-way street. That's not how to really learn."
Martinez also believes that students are on their own at German universities. Although he managed to adapt to the German way of education, he admits that the beginning was harsh.
"Nobody will hold your hand. There is no guidance counseling or even real orientation," Martinez says. "But that doesn't mean the quality of education is any lower."
Everybody is welcome
When looking at the big picture, it is noticeable that not only the number of American students pursuing a degree in Germany is increasing, but also the number of international students as a whole. It has increased 34.3 percent, from 215,841 international students in the 2002/03 academic year to 289,848 in 2013/14.
On the one hand, it makes Germany an even more multi-cultural country; on the other hand, it is the taxpayers that are paying for these students. DW has asked some German citizens for their opinion – and they seem to be quite positive about it. Click on the small circles below to know more about their thoughts!
DAAD President Wintermantel thinks that history has taught Germany to place a high value on building relationships and trust with other countries. She emphasizes that strong ties, in particularly in research and education, are invaluable: "Those who concentrate solely on immediate profit are not looking at the big picture."
Besides, Germany benefits from the young professionals in the long run. About half of all foreign students in Germany decide to stay after graduation, Wintermantel explains. More than 70 percent of them are looking for full-time employment, the rest become freelancers or pursue higher professional qualification.
In just five years, all public expenditures to educate these foreign students could be fully repaid, according to DAAD calculations. That's because the students generate massive tax revenues of 1.36 billion Euros a year.
For Wintermantel, international students also bring different viewpoints to Germany that are crucial to tackle the world's problems.
"In order to understand how we should address the global threats of climate change, poverty, epidemics and energy shortages, we need to create international collaborations throughout the world," she says.
"Universities, researchers and students alike must actively participate in addressing these challenges in a responsible and committed manner."