Like just about any young person, Hay Sokboromey is rarely without her smartphone. But this morning, she is not using it to chat with friends or snap a quick selfie for social media. Instead, she is scrolling through the encyclopedia section of khmerrougehistory.org, a new multimedia, interactive website that presents information on Cambodia's most tragic period.
Her fingers stop as she looks at a video of Phnom Penh in the late 1970s, its streets empty of people. Cambodian cities became ghost towns after the Khmer Rouge forcibly evacuated residents when leader Pol Pot and his cohorts took power in April 1975.
"I like that the site has a lot of information gathered in one place and we can see documents and videos on many topics," said the 18-year-old, a student at the Royal University of Phnom Penh. "And if we have a question, we can write the experts ourselves."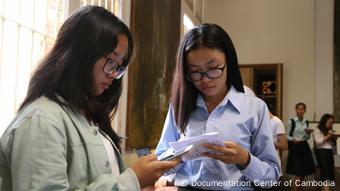 18-year-old university students Hay Sokboromey, right, and Hongthally Sonit at the launch.
The site is a collaborative project between DW Akademie and the Documentation Center of Cambodia (DC-Cam), a research and educational institute, which maintains the world's largest Khmer Rouge archive. On Friday, September 8, the website was officially launched in the Cambodian capital, the culmination of two-and-a-half years of work.
Digitalized education
DC-Cam was the driving force in introducing a Khmer Rouge curriculum in the country's schools to ensure that Cambodian youth understand what led to the xenophobic regime under Pol Pot, which ruled Cambodia from 1975 and 1979. Its radical drive toward complete self-sufficiency resulted in the deaths of at least 1.7 million people.
In addition to a textbook on Khmer Rouge history, it was thought that even more young Cambodians could be reached online, where they spend a large chunk of their time. So DC-Cam and DW Akademie scoured digitized archival material to put together a comprehensive overview of the era using historic photographs, audio and video.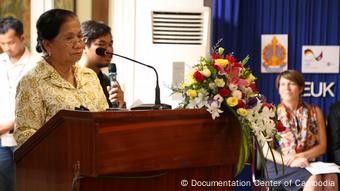 Ton Sa-Im from Cambodia's Ministry of Education highlighted the mobile-friendly use of the website
"I'm very happy that we have this site, which can disseminate information about the Khmer Rouge quickly and on a larger scale," said Ton Sa-Im, Under-Secretary of State in Cambodia's Ministry of Education, Youth and Sport, who officially launched the site. "We don't have to be just at school now, we can learn about it anywhere."
Dynamic and interactive
The website features a Khmer Rouge timeline, spanning the period from the 1920s to 2015. An encyclopedia section has more than 40 entries on topics including Tuol Sleng prison, Pol Pot, forced marriages and the Khmer Rouge Tribunal. Personal stories of members of the Khmer Rouge, as well as victims of the regime can be found in a profile section. Video and audio excerpts allow users to see and hear individuals telling their own stories.
In addition, a blog section will feature research projects and the latest in Khmer Rouge-related news.
"The idea of the website and a linked Facebook page is to create a platform that opens the door to adeeper understanding of this part of Cambodian history and encourages a dialogue about how the period still resonates in the country today," said Kyle James, a DW Akademie consultant who worked closely with DC-Cam on the project.
Moving forward
The website contributes to DC-Cam's mission to honor those who lost their lives under the Khmer Rouge while working toward reconciliation and healing in a society still traumatized in ways by events from the time, which are very much in living memory.
"The site enables students to learn more about the era and move forward with confidence," said So Farina, DC-Cam's Director of Research.
Student Hay Sokboromey plans to introduce the website to her family and friends on her next visit to Banteay Meanchey, the province in rural northwestern Cambodia where she was born. Her grandfather lost his brother during the Khmer Rouge era.
"Even today, some in my family are afraid the Khmer Rouge will come back," she said.
The more people understand about what happened back then, she added, the less likely she thinks that could happen again.