Ronny and Jako are two German federal police officers. They would prefer not to read their surnames in the international media and "are responsible for everything that happens within 30 kilometers of the border to Austria," as Ronny explains while turning the ignition on their unmarked police BMW.
It is still dark but there is already plenty of traffic on the A8 autobahn to Munich. Ronny and Jako are looking for migrants who have crossed the Austro-German border illegally.
The third motor vehicle they stop and check is a coach with Italian number plates.
Among the passengers are two Nigerians without valid travel documents. One of them, who says his name is Kennedy, confesses, after some hesitation, why he entered Germany. "I thought it would be a good idea to come here and apply for political asylum," he said.
Kennedy said that he had come to Italy via Libya. He had been in Italy for three years but had been unable to find a job there.
Being arrested by the German police didn't appear to worry him. He explained calmly that he was on his way to Munich anyway and would be applying for asylum in the southern German metropolis.
Next stop: Rosenheim
The two Nigerians are taken to a federal police station in Rosenheim. There they are told to wait. Seven Syrian refugees and a human trafficker have just been brought in by police colleagues of Ronny and Jako. "We are working to full capacity," Jako explains "every day we have thirty people or more who have entered Germany without authorization."'
German federal police station in Rosenheim. The identities of several dozen migrants are registered here daily
Most of the refugees come from Syria, Eritrea, Somalia, Afghanistan or Nigeria. In Rosenheim alone, the police say they have registered the arrival of 5,000 unofficial migrants so far this year.
The figure for the whole of 2013 was 4,000. They, however, are the ones who have been apprehended by the authorities. The true figure may be much higher.
Mohammed Idris comes from Eritrea and has a long and dangerous journey behind him.
It ended when he was caught by the German federal police and he has applied for political asylum in Germany. For the last few weeks he has been living in a refugees' hostel in Frasdorf, a suburb of Rosenheim.
His perilous journey began in his home country on the Horn of Africa and then took him to Sudan and on to Libya. "It was tough in Libya," he confides. "I spent a month in prison there. I then left Libya by boat and having crossed the Mediterranean arrived in Italy," The sea trip in an overcrowded boat was the most hazardous stretch of the journey.
No shortage of people smugglers
Ali Ahmed, a 17-year-old from Somalia, paid traffickers three thousand dollars to be brought to Europe. He has also spent the last three weeks in a Rosenheim refugees' hostel. "There are many people who will take your money and help you come to Europe," he said.
Ali wasn't planning on staying in Germany, his original destination was Norway. But after he had been arrested in Rosenheim, he decided to apply for asylum in Germany.
The federal police are responsible solely for registering the refugees. It is the Federal office for Migration and Refugees that decides what happens to them.
Refugees that have already been registered in another EU country generally have to return there.
Refugees from countries where civil war is raging, such as Ali Ahmed and Mohamed Idris, are normally set free after questioning and can apply for political asylum.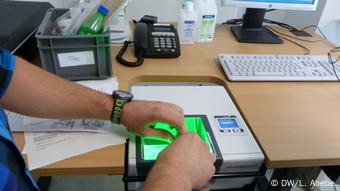 Migrants' fingerprints are checked in databanks across Europe
Several routes used by human traffickers smuggling refugees meet in Rosenheim. The "Balkans route" from Afghanistan ends here, as does the "Brenner route" which goes from Africa across the Mediterranean and on to Italy and Austria.
There are also the international rail networks, the police explain.
It is now midday and Ronny and Jako are checking the Eurocity 88 express train which they boarded on the other side of the frontier in Austria. They spot a refugee at the door of the train. After it has passed the frontier, they say "We are German police. Passport, please!" The African realizes what is happening to him. Asked which country he comes from, he says softly "Sudan."
The police search him. They want to find out if he is carrying weapons or other dangerous implements. But they find nothing, apart from a slip of paper. He doesn't have any luggage and he is wearing the only clothes in his possession.
The slip of paper is the only official document the Sudanese has with him. It was issued by the Austrian police who had evidently also checked his identity the same morning.
The Eurocity 88 takes 20 minutes to travel from Kufstein in Austria to Rosenheim in Germany. Ronny and Jako arrest two migrants who tried to enter Germany illegally during the trip and a third on their arrival at Rosenheim station.
The two policemen suspect there are more of them on train and notify their colleagues at Munich station, the train's next stop.
A German woman returning from a visit to Italy who left the train at Rosenheim appeared shocked by the plight of the refugees. Bolzano station in South Tyrol, as well as the train, had been full of refugees."I've never seen anything like it," she said. The place was full of African refugees their faces full of despair, she explained as Ronny and Jako led away the three refugees they had just detained.