Two former VW executives were convicted Friday, Feb. 22, in a bribery scandal that began some three years ago.
Klaus Volkert, one-time leader of the Volkswagen works council, was convicted of incitement to breach of trust and aiding and abetting it, as well as breaches of German labor law such as accepting improper bonuses and benefits.
Former Volkswagen personnel chief, Hans-Joachim Gebauer, was handed a suspended prison sentence on corruption charges.
The trial was told that he sanctioned nearly 2 million euros ($3 million) in illegal payments to Volkert after his boss had told him to "be generous" to the powerful labor figure.
Both Volkert and Gebauer say they plan to appeal the verdicts.
Dubious contracts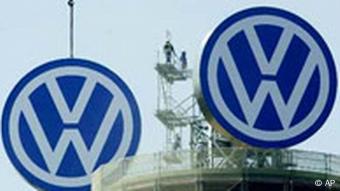 The company has been rocked by scandal
The trial was one part of a broader investigation into claims that VW managers bribed labor leaders in exchange for support on policy.
Volkswagen says it did not discover until June 2005 that its funds were being spent on prostitutes and bribes for the head of the council, which is a legally-mandated body representing workers and salaried staff.
Volkert was accused of setting up a dubious contract between Volkswagen and his Brazilian mistress Adriana Barros, under which she received 400,000 euros without providing anything to Volkswagen, Europe's largest carmaker, in return.
Allegedly, the couple received a further 290,000 euros for travel, hotel costs, shopping purchases and other "non-business-related activities."
Ongoing trials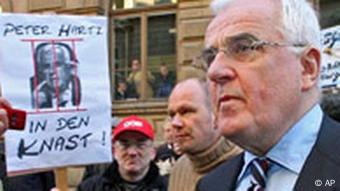 Peter Hartz on trial
This was the third trial related to the scandal, but the first time a jail sentence has been handed down.
In January 2007, former VW chief personnel officer Peter Hartz received a suspended two-year sentence and a 576,000 euro fine.
He had admitted being the initiator of the abuse that saw nearly 2 million euros paid to Volkert between 1995 and 2004 in an attempt to win union support for company decisions. Executives above Hartz deny they knew about the practices.
Hartz testified at a court hearing that his seniors had no knowledge of the payments.
Under German law, works council leaders need to be consulted on major company decisions.
Another one-time VW works council member, ex-parliamentary deputy Hans-Juergen Uhl, was fined 39,200 euros in June last year after admitting taking part in sex parties at company expense.
The scandal originally centered on bribes from potential suppliers and the creation of dummy companies to secure lucrative contracts in India, Angola and other nations, but it widened to include claims of prostitution, sex parties and illegally financed perks.
The case has shone a revealing light on the cozy relationship between the company's management and labor representatives.