In sport, tasting repeated defeat at the same pair of hands can build resentment. But as often as not it also engenders respect from the loser that can cross over into mimicry, or at least an effort to unravel the alchemy that makes the winner a decisive bit better.
These days, Germany coach Joachim Löw rarely misses an opportunity to praise the Spanish national team, or talk about how important it is to catch up.
"Spain is still the stick by which others are measured - not just among national teams, but in club football too," he told kicker this week.
Löw said this in the midst of preparations for a set of Euro 2012 qualifiers, and fresh off of watching Barcelona's dismantling of Manchester United in the Champions League final. It is likely then that what he was getting at were the hallmarks of Spain and Barcelona, the club side that provides so many of its players: possession and passing accuracy.
Keep away
The Spanish (and their Catalan club alter ego) are the unqualified masters of possession, using their triangle-building, to-and-fro tiki-taka style to run opponents ragged. Against a disciplined, defensive-minded opponent, a team playing this way can struggle (see Spain-Paraguay in South Africa) or even lose (as with Inter-Barca). But eleven players who can pass so well that they keep the ball away from the other side will often win.

Spain's ball skill from back to front make them a handful for any opponent
Germany learned this lesson twice against Spain. But they've also learned, on their own, that it's not just the amount of possession but the kind that counts. Serbia ceded Germany 58 percent of the ball and beat them. Ghana let Germany have it for 56 percent of the game, and if it weren't for a moment of individual brilliance from Mesut Özil the African side would have gone through as Group D winners.
Tellingly, Löw's men's most rousing successes at the World Cup came playing a countering style against teams that took the game to them and left a lot of space, England and Argentina. This quick -strike method is effective, but Löw understands that a team of Germany's caliber can't count on being able to use it very often. It appears he is on the hunt, above all, for players who can pass - and thus help him add an effective possession-oriented style to Germany's bag of tricks.
Star search
If finding a few super-players with this ability is Löw's goal, Dortmund's Mario Götze is a godsend. His youth, speed, and experience with Dortmund playing under a quick-strike tactical regime mean he will need little remedial work at playing the counter. But it's his close control and passing accuracy (76 percent for the season, among the best in the Bundesliga for an attacking midfielder) that may make him a long-term shoo-in for Löw's new Germany. (Still, he has a way to go to match the likes of Mesut Özil, whose passes were a dizzying 86-percent accurate with Real Madrid this year.)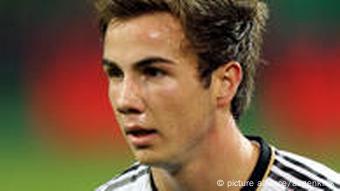 Dortmund's Götze is Germany's current golden boy, for good reason
There has been a lot of talk in the German press since Andre Schürrle's fine debut in Germany's starting line-up against Uruguay that the young Mainz player could supplant Lukas Podolski as the left wing striker. Podolski has not always been the best decision-maker in the final third, and Schürrle may well prove himself the better option. But don't expect it just yet. Passing statistics from this season show the two were very similar in their care for the ball. Podolski was 71-percent accurate, while Schürrle was on 72 percent.
Further back in the central midfield, Germany looks very well served by its entrenched crop of players. The first-choice pairing of Bastian Schweinsteiger and Sami Khedira just completed seasons in which their passes were 84 and 86-percent accurate, respectively, and down the depth chart Toni Kroos and Simon Rolfes were not far behind at 83 and 82 percent.
Casting an eye over Sven Bender's numbers this year with Dortmund (far behind at 75-percent accuracy), it's hard to see what Löw sees in him other than a pure destroyer. It may also be that Löw doesn't feel he has many alternatives.
Among defensive midfielders whose all-around play might arguably warrant a look-in with Germany - Freiburg's Julian Schuster, Manuel Schmiedebach of Hanover, and Hoffenheim's Sebastian Rudy - only the latter (on 77 percent) is in even Bender's league as a passer. (Incidentally, the 81-percent-accurate Michael Ballack has a strong case that he can still pass well, but his tackles-won percentage for the season was a limp 44.)
Cream of the crop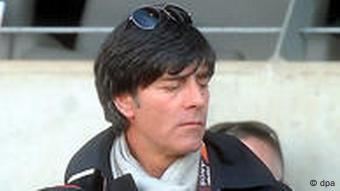 Löw has time before the tournament to think things over
If all this seems like an exercise in hair-splitting, that's precisely the idea - and one that will have to be undertaken for more traits than passing accuracy alone. Löw says his job in the coming months is to determine the precise ability level of each of the new crop of young German players.
"My demands have increased enormously," Löw said this week. "I now know how good you have to be, and not every young player is going to fulfill my demands."
With the remainder of their qualifying campaign ahead of them, as well as friendlies against the likes of Brazil, Poland, France and the Netherlands before the tournament kicks off next summer, he should have every opportunity to find out who is up to the task.
Author: Matt Hermann
Editor: Toma Tasovac