Around 200 protesters gathered in front of the police headquarters in the Ukrainian capital, Kyiv, on Tuesday, demanding justice for the 38-year-old lawyer and activist Iryna Nozdrovska.
The activist had disappeared on December 29, and her body, reportedly showing knife wounds to her neck, was recovered from a river outside Kyiv yesterday.
Protesters blame the police for failing to protect Nozdrovska, who reportedly received threats over her high-profile campaign to convict her sister's killer.
"B******, you killed a person," some of the demonstrators shouted. Others called on officials to resign, according to the Ukrainian Strana.ua news site.
Ukraine news outlet Ukraina Moloda tweeted a picture of Nozdrovska.
Kyiv police chief Dmyto Tsenov went out to protesters to assure them that an investigation was already in progress. He also urged the activists to form a special citizens' action group to monitor the investigation.
The US embassy in Kyiv also said it was "shocked and saddened" by the murder and urged justice.
Threats received?
Previously, local media had reported that police had detained Nozdrovska's former fiance and were considering the possibility of the murder being a crime of passion. However, many observers believe that the murder was related to Nozdrovska's efforts over the death of her younger sister in 2015.
Svetlana Nozdrovska was run over by a driver who was reportedly under the influence of narcotics at the time of the incident. The perpetrator turned out to be a relative of a senior regional judge.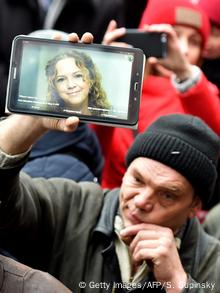 Some protesters vowed to take action themselves
Iryina Nozdrovska then mounted a campaign to convict the perpetrator. According to Ukrainian parliamentary deputy Mustafa Nayem, she received multiple threats from the suspect and his family.
Last summer, the driver was sentenced to seven years in prison, and a court rejected his appeal to be released last week.
"During the proceedings, the suspect's father directly threatened Iryina: 'You'll end up badly,'" Nayem said in a Facebook post.
The deputy's account of events could not be immediately verified.
Kyiv police chief Dmyto Tsenov said that Nozdrovska had not reported any threats aimed at her. Tsenov also said the case was under his personal control and that he reported "regularly to the national chief of police and the acting minister," according to the Kyiv Post.