Selahattin Demirtas was the first Kurdish candidate ever to run in a Turkish presidential election campaign. The 41-year-old has reason to be pleased at the outcome: he won almost 10 percent of the vote.
While projections ahead of Sunday's election showed him at no more than seven percent of the vote, both Kurds and Turks voted Sunday (10.08.2014) for the by far youngest candidate in this year's race for Turkey's top job. Demirtas repeatedly called for more democracy and more rights for minorities during his campaign, and to the delight of Turkey's gay activists, he was the only Turkish candidate to advocate gay rights in Turkey.
Active role
Yegen: The HDP could do well in national polls next year, too
Demirtas' People's Democratic Party (HDP) includes the Kurdish Peace and Democracy Party (BDP) as well as several smaller leftist Turkish groups.
"We've finally managed to overcome ethnic boundaries and win a relevant number of votes from the Turkish left," he said after the final results had been announced. The unexpectedly good showing of the first ever Kurdish presidential candidate has given Turkish Kurds a boost in self-confidence, says Mesut Yegen, a sociologist at Istanbul's Sehir University. Demirtas' success shows that his party could be successful in the 2015 parliamentary elections, the expert said.
These past months, both the winning candidate Recep Tayyip Erdogan and third-placed Demirtas stressed that they want to continue the peace process between Kurds and Turks. The Kurdish candidate's election success might allow the Kurdish movement to "actively and with newly found self-confidence help shape the Kurdish-Turkish peace process - instead of passively waiting for the government to decide," says Ismet Akca, a political scientist at Yildiz University in Istanbul.
Important political factor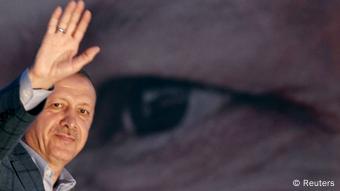 Erdogan won almost 52 precent of the vote
"Demirtas has always been an important figure for the Kurds' political movement in Turkey," Akca says. But developing the HDP party into a nationally influential political movement beyond ethnic boundaries is even more important than the success of a single key Kurdish figure, he adds. Neither Turks nor Kurds should view the HDP as a political apparatus controlled by the Kurdish movement, Akca says. In fact, he says, it's a "new political force," where Turkey's Kurdish, left and democratic movements join to go down a new political path. In cooperation with other democratic social movements in Turkey, the HDP could be a real alternative to Turkey's established but largely unsuccessful opposition parties, he says: "They must seize this opportunity."
The Kurds' importance has not only increased on Turkey's domestic scene, Akca says, pointing out that Kurds also play an increasingly important role in the Middle East in particular. People in Turkey fear jihadist organizations like the "Islamic State", and the fact that the Kurdish PKK fights jihadist terrorists in northern Iraq clearly influences popular opinion in Turkey. The same is true where an independent Kurdish state is concerned, Akca concludes: "Today, the Turks' attitude towards the Kurds is much more positive than in the past."