Afghan television on Monday showed the national flag being re-erected in the Kunduz governor's compound as residents ventured out to buy food, saying the sound of gun battles had faded away.
Kunduz police spokesman Sarwar Hussaini said that "all of the city is under our control now." But the German DPA news agency quoted a Qawa Khana suburb resident as saying there was "still sporadic fighting in some areas."
Residents quoted by Reuters said the city smelt of dead bodies that still lay on pavements. Shops were open in central Kunduz. Food and medical supplies were reportedly short.
Last Monday, Taliban fighters captured the strategic northern provincial capital, prompting a counteroffensive by Afghan and US special forces backed by US air strikes.
MSF demands independent probe
Doctors Without Borders, also known by its French acronym MSF on Monday demanded an independent probe into airstrikes on its clinic that killed at least 12 MSF staff and 10 patients and left its main medical building gutted.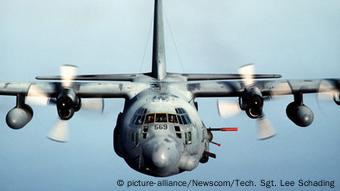 Slow but heavy armed - an AC-130 gunship
"An internal investigation by a party to the conflict would be wholly insufficient," MSF general director Christopher Stokes said on Monday.
The Associated Press quoted anonymous US officials as saying that a AC-130 gunship had fired on the site early Saturday. NATO said US forces had carried out a bombardment in the "vicinity" of the clinic without being more specific.
Afghans call for air support, says US
Visiting the Pentagon Monday, the top commander of US and coalition forces in Afghanistan General John F. Campbell said the airstrike ensued after Afghan forces said they were taking fire and "asked for air support from US forces." That request was conveyed via US special operations personnel on the ground in Kunduz, he said.
In the clinic were more than 180 patients and medical staff. MSF quit the burnt-out trauma clinic on Sunday.
Campbell's description differed from initial claims that the air strike was ordered because US forces were threatened.
Statements amount to admission, says MSF
Stokes hit out at claims by Afghan officials that Taliban insurgents had used the clinic as a position to shoot at Afghan forces and civilians.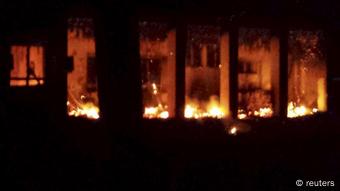 MSF's Kunduz clinic in flames
Those claims combined with US statements implied that Afghan and US forces had decided to "raze to the ground a fully functioning hospital," Stokes said.
"This amounts to an admission of a war crime. This utterly contradicts the initial attempts of the US government to minimize the attack as 'collateral damage,'" he said.
MSF had previously said that Afghan and US-led coalition forces had been aware of the exact location of the hospital for four years and had been sent frantic messages during the hour-long air strike.
Situation was confused, says Carter
US Secretary of Defense Ash Carter told reporters on a flight to Madrid at the start of a European tour on Monday that Saturday's situation in Kunduz had been "confused and complicated."
He had previously expressed sadness over the "tragic loss of life."
UN rights chief Zeid Ra'ad Al Hussein also called for a full probe, saying that an air strike on a hospital "may amount to a war crime."
MSF's withdrawal from Kunduz leaves the whole region without a medical facility capable of dealing with major war injuries aside from Kunduz' public hospital.
Health workers unsettled
Luca Radaelli, the director of another charity, Emergency NGO, which runs hospitals in Kabul, Panjshir and Lashkar Gah, said health workers felt increasingly unsafe.
"You feel vulnerable, that you can be attacked. you are not a soldier, you are here to treat people, just doing your job, but then you get hit," Radelli said. "It's just scary."
This kind of act, even if a mistake, cannot be justified," she added. "I don't have real comments, polite comments - just bad, incredibly bad," she said.
Nicolas Elias Metri, an official of the International Committee of the Red Cross (ICRC) in Kabul, said doctors and nurses were "opting not to come and work."
"Once the trust is lost, that the place you work is not safe, you can not continue working," he told DPA.
Confirmation would harm Ghani
Any confirmation of US responsibility for the clinic deaths would deal a blow to Afghan President Ashraf Ghani's policy of forging ties with the United States.
Last Monday's surprise Taliban assault on Kunduz hugely embarrassed Ghani. His predecessor Hamid Karzi fell out with his US-led backers over the number of civilians killed in past US strikes.
Most NATO combat troops pulled out of Afghanistan last year but a smaller contingent remains, including 10,000 American soldiers.
ipj/se (AP, dpa, Reuters, epd, AFP)