When I arrive to start work at state-owned Zanzibar Broadcasting Company, my new mentor Nassra Nassor welcomes me to the production department, and shares some cultural background about her homeland: "The principles of Zanzibari culture are love, peace and hospitality." I will come to learn that Nassra is a person who truly embodies her principles. From the very beginning, the 34-year-old producer generously introduces me to local culture outside the workplace as well.
Nassra helps me get to know and understand my new surroundings. I experience Islamic holidays and weddings. She takes me shopping for a headscarf, and confidently guides me through the colourful chaos of the streets of Stone Town, calling, "Twende zetu", or "Let's go", whenever I pause in confusion among the innumerable stalls in the food market.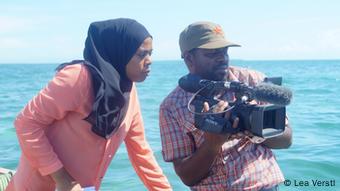 TV producer Nassra Nassor (links) filming a fishing program
Despite our different cultural backgrounds, we are similar in many ways. She, like me, has always dreamt of being a journalist ever since she was a little girl. "As a journalist I can speak out and express criticism," Nassra says. She is critical about the current state of reporting in Tanzania, for instance: "The media focuses too closely on politics and the parties. Social problems like women's rights, poverty and the health care system are ignored." These are issues Nassra plans to explore in more detail in future. She has worked as a TV producer for ZBC since 2010, primarily producing cultural programs in which she talks to studio guests about topics such as traditional clothing.

Expressing criticism

I tell Nassra a bit about my own background – I have a degree in cultural studies and am Editor in Chief of "Dilemma", a socio-cultural magazine – and she suggests I develop a format that focuses on socio-cultural issues. The "Sauti ya Zanzibar" ("Voices from Zanzibar") documentary series is designed to give local people a forum for talking about their traditions. In the run-up to the series, I organize and run a three-week workshop with 15 participants including ZBC producers and staff from the news program. The workshop covers the entire range of journalistic skills, from interview training and directing to writing a script.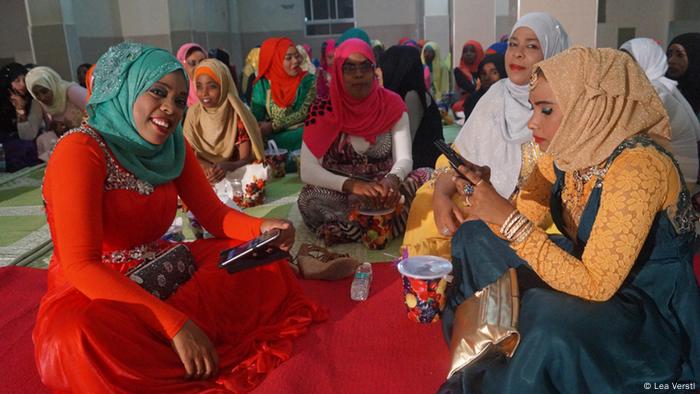 For our first instalment in the series, Nassra and I decide to cover traditional fishing. Around 20 percent of people here earn their living fishing, making it one of the islands' key commercial sectors. Though the work is hard and extremely hazardous at times, fishermen still number among the poorer inhabitants of Zanzibar. We are currently working on the documentary together.

I am so grateful Nassra is there with her wisdom and experience to guide me through the complicated organizational process. In addition to her work as a television producer, she has taught at the local journalism school for four years. A lot of research goes into every one of her seminars, and she enjoys the challenge of teaching: "The students are very creative and ask really good, in-depth questions. I want to be able to answer them all, so I have to be well prepared."

Nassra has also enjoyed an exceptionally good education: She completed her bachelor's in mass communication at the Muslim University in Morogoro, a city on the Tanzanian mainland. Two years ago she was offered a scholarship to attend a one-year master's program in China, where she studied intercultural communication at the Communication University of China in Beijing.

Educational opportunities for women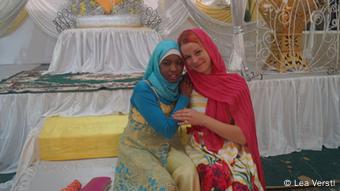 Co-workers and friends: Nassra Nassor and Lea Vestl
But her path has not been easy, and Nassra has had to fight hard for her education. She is the second youngest of twelve siblings, and was left raising her younger brother alone when her mother died in 2001. Running the household as well meant she had no time to pursue her studies. So she encouraged her father to marry again, and he agreed. This self-confidence has brought Nassra far, she is independent and paying her own way with two jobs. She is not married.

More and more women on Zanzibar are attending university and pursuing career options. But women from very poor segments of the population in particular are still dependent on marriage. To me, Nassra is not just a skilled fellow journalist and a trusted friend; she is an inspiring example of how Muslim women are emancipating themselves in one of the world's poorest countries. At our very first meeting, she listened to my professional background, then said: "I can learn a lot from you." I smiled and responded: "I am confident I can learn a lot from you too." I have never been more right.