Wijerathna Storz-Vidanage: "I'm very German in some things."
Wijerathna Storz-Vidanage came to Berlin from Sri Lanka 40 years ago as a tourist. He liked it so much that he decided to stay.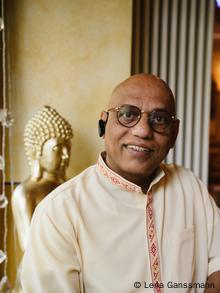 Wijerathna Storz-Vidanage
Far from home and family, he had to learn to take care of himself - so he started to cook. As it turned out, he liked it, so he started inviting friends over to eat. They were so impressed by his cooking skills that they encouraged him to start thinking about opening his own restaurant. And that's just what he did. In 1993, he opened Germany's first fully organic Sri Lankan kitchen. The venture was so successful that he started another four years later - Suriya Kanthi.
Suriya Kanthi in Berlin's Prenzlauer Berg district
Opening up in 1997, Suriya Kanthi immediately scored points. Wijerathna Storz-Vidanage lovingly transformed the former beer pub into a place to enjoy the exotic Ski Lankan cuisine made from organic ingredients - and it still keeps diners coming back.



Kohlrabi curry
Serves 4
Ingredients:
1 kohlrabi (turnip) (around 200 g) with leaves
2 garlic cloves
1 medium-sized onion
6-7 curry leaves
1 medium-sized tomato
100-150 ml coconut milk
Cinnamon sticks
1⁄4 t turmeric
1 t curry powder
1⁄2 t mustard seed
Salt
Ground pepper
Oil for frying
Preparation:
Dice garlic, slice onions into thin strips, and dice tomatoes. Chop kohlrabi into long strips around 3 mm thick and 3 cm long. Then chop kohlrabi leaves. Sprinkle kohlrabi (without leaves) with 1/2 t salt, cover, and allow to sit for around two minutes.
Select a large pan with a lid or a pot. Heat oil, add mustard seed, and sauté. Add onions and sauté until transparent. Add garlic, curry leaves, turmeric, curry powder, and pepper to pan. Combine kohlrabi leaves and kohlrabi and add to pan. Cover and cook until kohlrabi is cooked through.
Lower heat, add coconut milk and diced tomato, and simmer for two to three minutes uncovered, stirring occasionally. Serve with rice.
Restaurant Suriya Kanthi
Knaackstraße 4
10405 Berlin
Tel.: +49 30 4425301