The 82-year-old Kohl, who now speaks with some difficulty, said in a short statement that "Europe must never again be allowed to descend into war."
He said this meant that Europe must grow even closer together in the next few years.
"We need to press on with the unification of Europe," he said.
Chancellor Angela Merkel was among the German politicians who turned out to honor her predecessor, who is credited with having been a key player in efforts to unite not only Germany but also Europe.
Merkel described it as "an incalculable stroke of luck" that it was Kohl who was in office in 1989 when the opportunity came to "push open the door to German unity."
The former president of the European Parliament, Hans-Geert Pöttering, said Kohl "wrote one of the most important chapters in European and German history."
Pöttering is now head of the Konrad Adenauer Foundation, which organized Thursday's event, and is closely associated with Kohl's Christian Democratic Union (CDU).
"Helmut Kohl turned dreams into reality: German unity and the irreversibility of the European project," former Italian Prime Minister and European Commission President Romano Prodi said.
He also called on Germany to continue to be a driving force in Europe. "We can only meet this challenge if we are united," Prodi said, referring to the eurozone's sovereign debt crisis.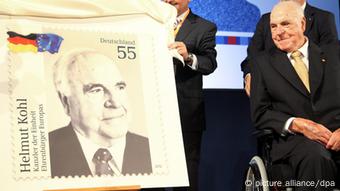 The Kohl stamp is to be available beginning next month.
A number of international leaders sent video messages, including former US President George Bush Sr., who praised Kohl's "uncommon vision and courage."
Merkel also used the opportunity to reiterate her support for efforts to overcome the crisis, saying the euro was "much more than just a currency."
The chancellor also unveiled a stamp that is to be issued in Kohl's honor.
Helmut Kohl served as German chancellor from 1982 to 1998. Kohl and Merkel fell out over an affair involving secret donations to the CDU, which led him to step down as honorary chairman of the party. Relations between Kohl and the party are said to remain strained.
pfd/tm (AFP, dpa, KNA)