Charlotte Knobloch, 77, said she would not seek re-election when her term ends in November, in order to "consciously bring about a generational change."
Knobloch's decision marks a turning point in the history of the Jewish council because the next president will in all likelihood be the first person in this office who was born after the Holocaust.
Munich-born Knobloch, who has held the post since 2006, is one of a dwindling number of German Jews with personal experience of the Holocaust.
Her grandmother was killed in Auschwitz, and her father spent the war as a slave laborer. She herself survived because she was taken in by a Catholic woman who pretended she was an illegitimate daughter.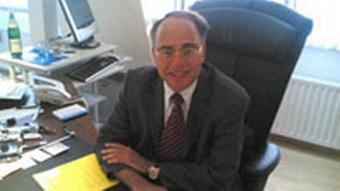 Graumann could likely succeed Knobloch
Knobloch's likely successor, the outspoken committee vice president Dieter Graumann, was born in Israel in 1950 and moved with his parents to Germany as a toddler.
He criticized a recent Swiss referendum banning the construction of minarets, calling the ban a "loud and ugly signal against tolerance and freedom." He has also called for Germany's Muslim community to counter rising anti-Semitism among young people.
Graumann has also called for the council to put more importance on the positive aspects of Judaism, saying that "otherwise we only know what we stand against, but not what for."
The Central Committee represents about 106,000 Jews in Germany, just over half of the country's Jewish population.
svs/KNA/dpa/APN/AP
Editor: Sonia Phalnikar