He's been the subject of 32 years of speculation, spawning numerous attempts by journalists to dig out the truth, and even Web forums devoted to that gnawing question: Who is the boy whose face has helped sell millions of boxes of Kinder chocolate around the world?
Now, the "Kinder" boy has revealed himself to be Günter Euringer, 42. Finally prepared to discuss his secret life as a German icon, Euringer launched his autobiography, "The Chocolate Child" in Munich on Tuesday. But why did he wait so long to come forward?

In an interview with the Süddeutsche Zeitung, Euringer said he felt he'd finally gained enough distance between the boy on the chocolate wrapper and the man he is today.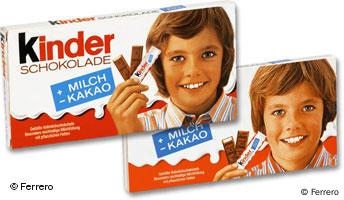 Kinder changed its model's face slightly over the years, modernizing the 1976 image (left) in 1988 (right)
The face that sold a million bars

In 1973, Euringer's mother, who worked for an advertising agency, took the then 10-year-old Günter to the photo shoot, not knowing that he would become the face of the Kinder brand.

In his autobiography, Euringer recounts feeling a rush of pride the first time he saw his face smiling out at him from the supermarket shelf. But as he got older, he kept his identity quiet.
He said one of the most annoying things was being asked about money by people who assumed he was a millionaire or that he earned money every time a bar of chocolate sold.

Instead of becoming fabulously wealthy from that fateful photo shoot, Euringer received just 300 deutsche marks, the equivalent of 150 euros ($178).
Life-changing photo
Euringer is happy, though, to dispel rumors that the Kinder boy, like many a child actor, fell into obscurity after being ruined by fame and drug addiction. The truth, as always, is more banal: Euringer, now the father of two children, leads a perfectly healthy life as a cameraman and filmmaker near Munich.
After many years spent denying any connection to the angelic-looking Kinder chocolate boy, he's even made peace with the image -- but only when he thought it was about to disappear.
Euringer told the Süddeutsche Zeitung about his shock at seeing Kinder chocolate in Italy with a different boy and girl on the package and his relief at learning it was just a limited-edition summer wrapper. "That was the first time it became clear to me, how much the photo on Kinder chocolate bars has become a part of my life," Euringer said.