Kenyan police on Wednesday arrested opposition legislator and lawyer T.J. Kajwang after he attended opposition leader Raila Odinga's fake swearing-in ceremony on Tuesday, opposition official Norman Magaya said.
Kajwang stood next to Odinga on the podium wearing clothes mimicking traditional robes as the opposition leader underwent the symbolic inauguration that was attended by thousands of opposition supporters.
Odinga lost an election re-run in October 2017 to current President Uhuru Kenyatta, who was sworn in two months ago.
Read more: Kenya: Huge crowds at opposition leader's 'swearing in' ceremony
How Kenyatta's government has responded
The government has outlawed the National Resistance Movement, an upshot of NASA, and labeled it a "criminal group."
Kenya's top three TV stations have been closed down indefinitely as the government investigates the fake inauguration.
In a statement, the government called the fake swearing-in ceremony a "well-choreographed attempt to subvert or overthrow the legally constituted government."
It also said it had commenced full investigations around the supposed inauguration of Odinga and that "appropriate legal action" would be taken
The investigation "will extend to co-conspirators and facilitators."
Opposition co-leader's home attacked
One of Odinga's co-leaders of the opposition National Super Alliance coalition (NASA), Kalonzo Musyoka, who was to be sworn in as his deputy, failed to show up at the event because his bodyguards had been withdrawn.
Read more: Kenyan election: Kenyatta sworn in amid high security and opposition rally
A few hours after the ceremony on Wednesday, Musyoka said his home had been attacked in the early hours of the morning, with shots and a stun grenade fired at his house. Police are investigating.
'Assault on freedom of expression'
In a statement, the government said the channels that had been shut down had ignored a government briefing before the inauguration event and tried to broadcast it live.
The statement said live broadcasting would have provoked violence and "would have led to thousands of deaths of innocent Kenyans."
The shutdown of TV and radio stations prompted the Media Council of Kenya to release a statement that said it was "shocked at the recent turn of events."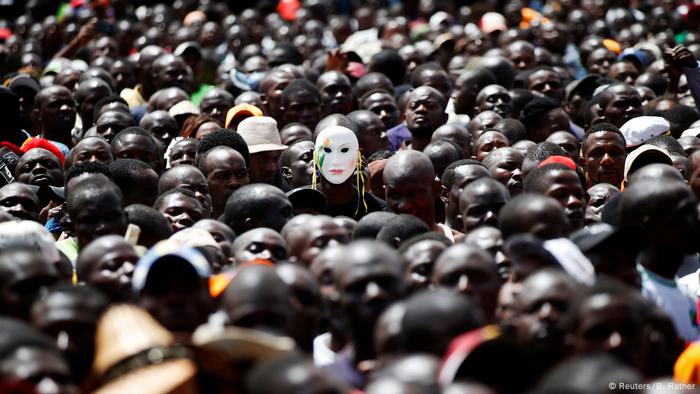 Thousands of opposition supporters attend opposition leader Raila Odinga's fake inauguration in Uhuru Park in Nairobi
Read more: Kenyan police accused of rape in opposition strongholds after elections, says HRW
"A political contest has turned into the greatest threat and assault on freedom of expression and media in Kenya's recent history," it said.
International rights groups also criticized the move. "Kenyan authorities have restricted media coverage at a critical moment, and violated the public's right to information about important events," said Otsieno Namwaya, an Africa researcher at Human Rights Watch.
Read more: Political tension grips Kenya after Supreme Court backs Kenyatta win
Why hold a fake swearing-in ceremony? Odinga believes that he is the rightful leader and Kenyatta is illegitimate. An election on August 8, 2017, was won by Kenyatta with 54 percent of the vote and then annulled by the Supreme Court, which ordered a re-run on October 26. Odinga boycotted the second vote and Kenyatta won with 98 percent.
law/sms (AP, dpa, Reuters)