Under the shade of tall trees at the Igikiro Primary School, about an hour's drive from Kenya's capital Nairobi, a group of jigger-infested people, young and old, sit together chatting. One of them is 47-year-old Kamande Kariuki. His skin is covered in nodules caused by the fleas that have invaded his body. He says his legs are hurting badly.
Wayua Mwenje is a frail octogenarian whose feet are covered in gaping wounds. She says she is very happy to be at the treatment center that has been set up at the school.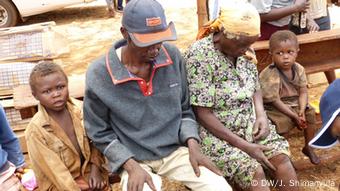 Many jiggers sufferers are ashamed of their condition
The treatment she and the others are receiving is provided by the Ahadi Kenya Trust, an NGO founded eight years ago by Stanley Maina Kamau, who as a teenager himself suffered from jiggers. Now a qualified doctor and anti-jigger crusader, his goal is to eradicate the parasite completely. He told DW that many jigger sufferers become social outcasts and rank among the poorest of the poor. "Jigger-infested people are at the bottom of poverty. They can't afford to buy a basin, they don't have water, they can't afford shoes or soap. They can't afford any basic item that can be able to remove one jigger," he said.
Jigger infestation is caused by an impregnated female sand flea (Tunga penetrans) which burrows into various parts of the body, such as finger nails, ankles, elbows, palms, toes, knees, lips, eyelids and buttocks. As the flea feeds on a person's blood, it grows and lays eggs the shape and size of a pea that can cause pus-filled sores. Serious cases can lead to ulceration, fibrosis, gangrene, loss of toe nails, amputation of fingers and even death. The major cause of jigger infestation is poor hygiene.
Cleanliness is key
A volunteer nurse uses a tiny scalpel and cotton wool to remove jiggers from the feet of a grey-bearded sexagenarian.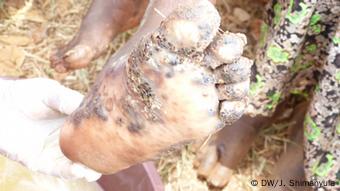 If jigger infestation is not treated, feet can become deformed
An eight-year-old boy is soothed by Julius Muiruri, a government nurse, as he begins cutting the boy's toenails. "I am cutting the nails so that we can observe cleanliness because even some of the nails have jiggers," Muiruri said. The boy is allowed to keep the nail cutter so he can continue to take care of his nails himself.
After hands and feet have been cleaned, nurses and volunteers treat the patients with chemicals. Anne Wambui, administrator of the Ahadi Kenya Trust, told DW what they use. "The chemical that we are having is potassium permanganate to eliminate jiggers. After that you smear Vaseline [on the affected places] and then jiggers don't breathe any more and they die."
Need to overcome shame
The treatment used at Igikiro is being carried out throughout Kenya. John Njoroge Gitau is a member of the local county government assembly. He paid tribute to the work of the NGO. "As a government we have already passed a law that all jigger-infested people should be treated and there should be continuity in treatment," he said, adding that he was ashamed that jiggers was still such a big problem "but in the meantime we have friends like Ahadi Kenya who are helping us."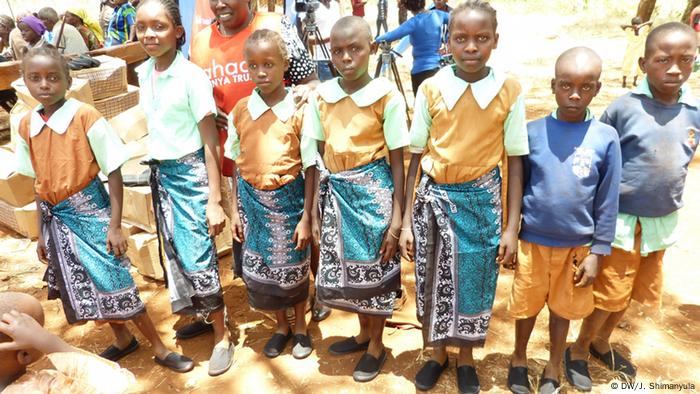 These children wear rubber shoes after their feet have been disinfected and treated
For the first time, the government has now admitted the scale of the problem. From now on, National Jiggers Day will be marked in Kenya every year on March 3 to draw attention to the fight against the parasite.