As polls closed on Sunday, Kazakhstan's Central Election Commission said voter turnout reached 90 percent as the country voted during the presidential elections.
President Nursultan Nazarbayev, age 74, cast his ballot in the capital, saying he was "confident" that Kazakhstan would support his re-election.
"I am sure Kazakhstan's people will vote primarily for the stable development of our state and the improvement of people's lives, as well as the stability of the state and in support of the policies the country has implemented under my leaders," Nazarbayev told journalists on Sunday.
'Not an election'
Meanwhile, the Organization for Security and Cooperation in Europe (OSCE) said that Nazarbayev's posters and billboards were "visible throughout the country" while his rivals distributed "almost no campaign materials."
However, Nazarbayev's victory over his pro-government rivals, a trade union official and a Communist politician, is considered a formality.
"This is not an election, it is a re-election," director of the Kazakhstan Risks Assessment Group, Dosym Saptaev, told international news agency AFP.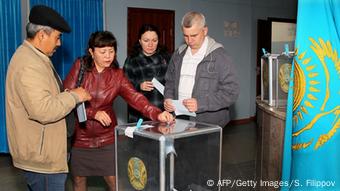 "The significance of the event is no more than the fact that it may well be Nazarbayev's last," Saptaev added.
The president allegedly called the snap election nearly a year ahead of schedule in order to curb fears about a successor. Nazarbayev has ruled oil-rich Kazakhstan since before the fall of the USSR in 1991.
He is largely seen as a vote for stability as Kazakhstan's neighbors cope with armed conflict, political instability, and economic downturns.
He won the last presidential election in 2011 with 95.5 percent of the vote.
ls/rc (AFP, AP)