There are hundreds of construction workers welding, hammering and painting on the Expo site in Shanghai. But it's hard to imagine that in just a few weeks' time, the 192 pavilions will be ready to greet 400,000, mostly Chinese, visitors a day – visitors hoping to see visions of the urban future and a green oasis.
There are mountains of rubble and trash piled up along the roads – the only things that are green are the brand new garbage cans.
However, Huang Jianzhi, the vice director of the Shanghai Expo office, is optimistic. "We haven't had any negative reports yet," he says. "Everyone says that we will be able to open punctually on 1, May. Even those I thought wouldn't manage. But of course I can't be 100 percent sure. Nonetheless, I am assuming that most of the pavilions will be finished by 1 May."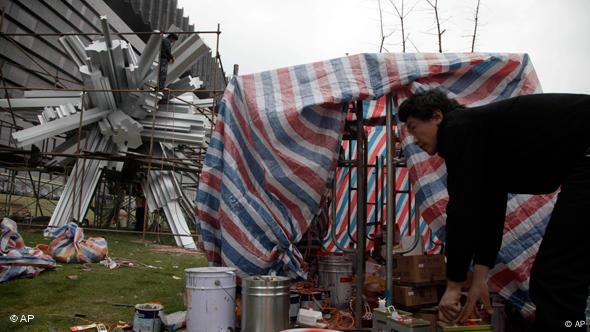 Chinese workers prepare to spray paint a sculpture on the Expo grounds
A magical world of sustainable development
In its promotional movie, the Expo presents itself as a magical world of sustainable development, as a world without traffic jams or pollution.
"Take the water that flows through the Expo's gardens," explains head planner Wu Zhiqiang. "It will come from the filthy Huangpu River but it will be so purified by the systems that children will even be able to play in it. We will water the plants with it, saving money on expensive tap water. Then at the end, the clean water will flow back into the Huangpu. Better City, Better Life!"
Sustainability is also a central aspect of the country pavilions. The Japanese and British pavilions are creating their own electricity and the Spanish organizers have come up with a facade made of environmentally-friendly straw.
Balancity – combining innovation with tradition
At the German pavilion, workers are still scrambling on scaffolding. But in a month's time, visitors will be led through different cityscapes so that they can experience Germany's variety.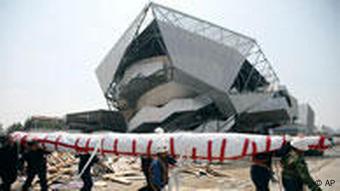 Workers at the German pavilion
"Balancity" is the name of the German pavilion – combining innovation with tradition, urbanity with nature.
The pavilion's asymmetrical structure, which looks like a huge white sculpture, is supposed to transmit a modern image of Germany, "as a transparent, open-minded, communicative and pro-active partner that welcomes interaction with others," says project manager Florian Özdikmen.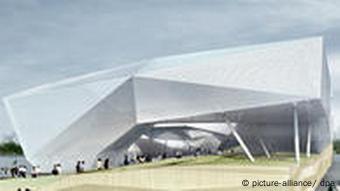 A computer model of the German pavilion at Expo 2010
No mountain of debt
Visitors will be able to see these visions of urban harmony on the Huangpu for six months, but then most of the pavilions will be pulled down.
Although 2.8 million euros have been put aside for the event, Huang Jianzhi is adamant there will not be a mountain of debt at the end. "The Expo doesn't want to make a profit. We've got the expenses under control. I can say with a clear conscience that we won't have a deficit.
"We will even be able to get back some of the costs later. The situation on the Shanghai real estate market is such that the prices are rising too much and we have to put a damper on it. So basically I can't see any problems arising."
The grounds are likely to be extremely attractive after the Expo, although nobody will say what is going to happen there yet. Some of the land could be auctioned off for construction.
Author: Ruth Kirchner / act
Editor: Thomas Baerthlein