"Even the sky reaches its limits sometimes" — in late June, the German Aviation Association (BDL) apologized to passengers in full-page newspaper ads for "long waiting periods, numerous flight cancellations and irregularities" in Germany's air traffic that have plagued the country since the beginning of the year.
Although the BDL said it's "working hard to improve punctuality and reliability," the ad included a confession that is not likely to calm down unnerved travelers: It admitted that "short-term irregularities" will continue over the summer.
According to passenger rights portal EUclaim, 15,571 flights were cancelled across Germany between January and June of this year. A further 3,778 took off more than three hours late. For the same period last year, the same figures were 8,826 and 2,268, respectively.
Read more: Lufthansa cancels almost 900 flights
As Germany's hectic summer holiday season kicks off, the country's air traffic has reached peak unreliability. With the schools from Germany's 16 states beginning their six-week summer breaks between June 25 and July 30, the next two months are bound to be chaotic. The school holidays in Germany's largest cities Berlin and Hamburg started on Thursday, while North Rhine-Westphalia, Germany's most populous state, is slated for July 16.
Politicians and consumer protectionists were alarmed amid the increase in cancellations and delays.
Klaus Müller, Germany's chief consumer advocate, told German business newspaper Handelsblatt that "difficulties must not escalate into a drama for consumers."
Arguing that extraordinary circumstances must not become a general justification for not reimbursing consumers, German state secretary Gerd Billen prompted Lufthansa and Eurowings to work on a system of "customer-focused complaint management."
Eurocontrol, an international organisation which helps to manage air traffic across Europe, expects a 53 percent jump in delays from 2017, costing airlines up to €30 million ($35 million). Airlines also face multi-million dollar damage claims. EUclaim calculations show that through June 20, consumers filed compensation claims worth €480 million. Depending on the flight distance, passengers are entitled to up to €600 ($700) of compensation if their flight is delayed by at least three hours.
What can affected consumers do?
Billen advised customers to insist on their rights and turn to the German Conciliation Body for Public Transport (SÖP), which has been dealing with arbitration between airlines and its clients since 2013, as well as the mediation body of the Federal Office of Justice. Both services are free.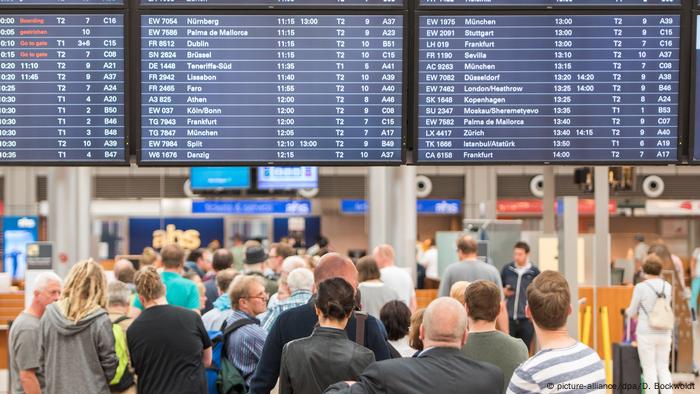 In early June, a power outage paralyzed Hamburg's Helmut-Schmid-Airport and caused thousands of delays and cancellations that affected over 30,000 travelers
Passengers are entitled to compensation if the airline is responsible for delays, rebookings or cancellations. This rule takes effect in the case of technical breakdowns or delays due to crews exceeding their working hours. It doesn't, however, apply in the case of strikes, inclement weather or aerospace closures.
When approached by DW, German Aviation Association's managing director Matthias von Randow said passengers should allow for "a bit more extra time" when flying this summer.
"Our companies will try to calm the situation and guarantee the assistance of our passengers, where appropriate and possible," von Randow told DW in an email.
Read more: Hamburg Airport: Interconnected infrastructure is vulnerable
Ryanair pilots vote to strike
On Tuesday, pilots directly employed by Ryanair and who are members of its Irish trade union announced they will go on strike for the first time on July 12 after the union said the low-cost airline had failed to meet demands over new working practices.
Although Europe's biggest budget carrier said 93 percent of its customers would be unaffected by the strike, it faces the threat of strike action in Germany where pilots have until the end of July to vote on whether to stage further walkouts.
Shares in the airline are down 21 percent from an all-time high last August before it had to cancel 20,000 flights over a rostering fiasco, triggering the pilot unrest.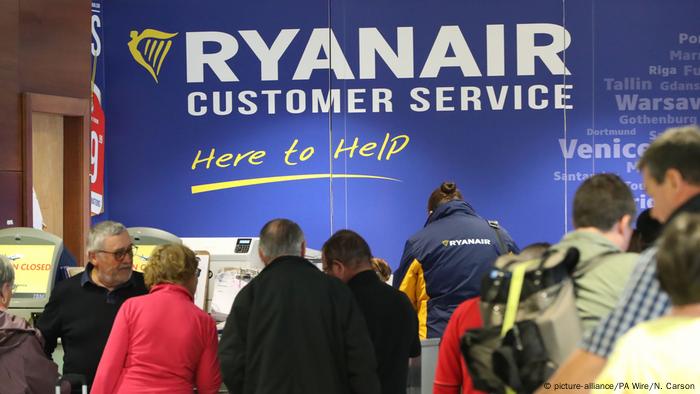 Ryanair averted widespread strikes before last Christmas by deciding to recognise trade unions for the first time in its 32-year history, but has since struggled to reach agreement on terms in some countries
EU 'won't limit' air traffic control strike rights
In late June, the EU vowed not to limit air traffic controllers' right to strike, after Ryanair and British Airways owner IAG demanded action to end crippling stoppages that they say are bringing misery to hundreds of thousands of holidaymakers.
Ryanair and IAG want the EU to force France to do more to tackle repeated strikes by air traffic controllers which have led to more than 750,000 passengers having flights cancelled since the start of this year.
But the European Commission defended workers' "fundamental right" to go on strike and said they hoped "non-binding and non-legislative" guidelines would solve the problem.
IAG and Ryanair have said they will file a joint complaint against France with the commission. Willie Walsh, IAG's chief executive, said he believed the French government was failing to uphold passengers' right to free movement, which is enshrined in EU law, by not tackling the repeated strikes.
A French senate report this week said the country's air traffic control was responsible for a third of all aviation delays in Europe, according to Le Parisien newspaper. Separately, a 2016 report from PwC found that air traffic control strikes had reduced EU GDP by €10.4 billion ($12.1 billion) between 2010 and 2015 through aviation, tourism and freight losses.