"I don't like talking about my strengths. I'd rather talk about my weaknesses because I have the feeling that when I talk about my strengths I'm praising myself and that's not a role I'm fond of."
Julian Brandt's grin hides the truth of the training session he has just arrived from. His shirt is oversized but smart, and his baseball cap seemingly a permanent fit.
Instantly, he creates an atmosphere of familiarity, and is refreshingly open for someone who prefers the sporting spotlight to the glare of the interview lights. The 20-year-old Brandt has no Facebook page, idolized Diego when he was growing up and admits that Leverkusen's dip in form this season is the strangest he has experienced yet. In the context of modern football, there's undoubtedly an element of the abnormal about the youngster.
Like a child called to the front of the class to recite the correct answers, Brandt eventually does speak about some of his strengths.
"I have relatively solid speed for someone of my height. I feel pretty comfortable when it comes to ball control. Sure there are a few more, but they're definitely accompanied by a few weaknesses."
Even here, Brandt cannot resist shirking the opportunity to heap even a teaspoon of praise on himself. He admits he doesn't win the ball back enough and he wants to score more headed goals, but it's his mind that he seeks the real improvement.
"I don't know if it's a weakness, but it has been something I've been carrying through the season. In situational play, I need to try and shoot more, which is tough for me at the moment because I have so many things going through my head - I want to dribble more or play another pass. This is a flaw of mine and something I have to change."
A lot of football is gut feeling, but a lot of it is also mental. I think a lot comes from your mind and if you can get things in there, then it's easier physically or mentally," Brandt adds.
His mind seems to be one of the clearest in the game, largely due to his relationship with his father and his almost complete abstinence from social media (he's only on Instagram).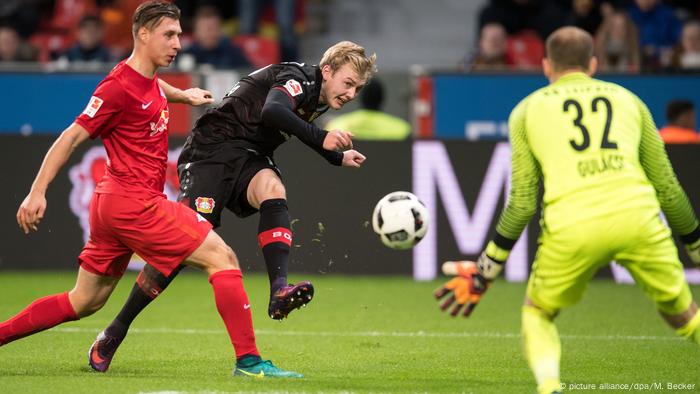 One of Julian Brandt's two goals in the Bundesliga this season in Leverkusen's 3-2 defeat to RB Leipzig on Matchday 11
"Facebook is not really my thing. I try to stay off social media. You post something; you set up a competition… It's not me," Brandt says before citing teammate Stefan Kiessling's decision to remove his page after receiving endless abuse following his phantom goal against Hoffenheim in 2013.
"My dad said to me: 'The more you reveal the more targets people have to aim at. It's better to play well on the pitch and keep a low profile off it because my private life doesn't concern them.' And in a way, he's right."
His father Jürgen has played more than just the paternal role. From being Julian Brandt's coach when he was a child to being his advisor now, Brandt senior has never been too far away.
"A lot changes in professional football. I was at the academy [in Wolfsburg] at 15 and had to put my childhood to one side. You have to grow up fast. You become a more public figure, you have to put value in things and be an example. And so, relatively quickly, you find yourself in a position where people start to label you arrogant or boastful," Brandt junior says.
"The most important thing my father said to me was, 'You don't need to be everyone's best friend. Being polite and having a positive charisma is enough.' He connects that with being down-to-earth. Of course, driving fast cars is fun but you should always remember where you come from and never lose your grip on reality."
And the Bundesliga star seems to have an exceptional understanding of his.
"It's not easy because every time you walk down the street and everyone says how great a player you are, how great a person you are… It's not easy to stay normal, because you start to believe them. It isn't necessarily true, but you believe it and if in that moment you don't have good support around you and the money arrives, it's not an easy situation, especially if you're a young player."
Brandt is a youngster both on paper and on the pitch, but in person he appears to be beyond his years - and the car analogy is once again appropriate.
"No player is arrogant just because they drive a fast car, because anyone would do that if they had a lot of money. Not boasting about it, that's the difference."
Posting online and then not performing on the pitch is something Brandt considers "fatal."
"I know myself. I'm not the type to mess around on Facebook for 24 hours, who uploads photos and two days later thinks, crap, I have to upload another one to make sure my fans are happy. I don't even think about crap like that," Brandt says without a hint of impoliteness.
"I like taking on players. It's part of me," Brandt says coolly as if his abilities in one-on-one situations are not oozing with quality beyond his years. "I don't really think. I look at the opponent and try and put him off balance and then get past them," he says, dropping his shoulder as he describes the move.
"The manager knows he doesn't need to say much to me. I can be left to play. I don't need many words," Brandt says.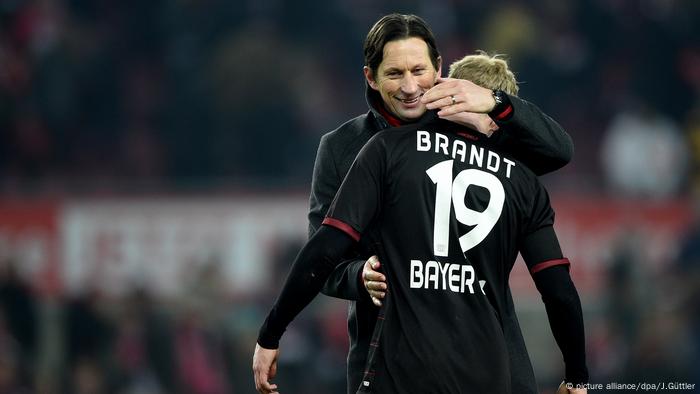 Head coach Roger Schmidt appreciates what Julian Brandt brings to Bayer Leverkusen's game
Brandt will make his 30th appearance of the season when Leverkusen face Borussia Dortmund on Matchday 23. He has managed only three goals and six assists, a relative low yield for a player who thrilled towards the end of last season with a spate of form that helped deliver Leverkusen a top-four finish.
"I take it as recognition. To feed my own ego would be the wrong thing to do," he says humbly of the many headlines about his future - ones sent to him by his friends, he doesn't seek them out himself.
"You can take the step [abroad], but I don't think you have to. Those that back themselves to do it have nothing in their way. I don't think it's a bad thing to try and find your feet abroad. Julian [Draxler] and Leroy [Sané] are the best examples of that right now. They are both young players and have huge futures ahead of them," Brandt says.
Whether the club will can continue to offer Champions League football next season will likely affect the future of many of Leverkusen's key players. And Brandt, who is younger than both Draxler and Sané, is among them.
"I think the allure of being world famous is normal. It would be a lie to say it wasn't alluring, but where and when you never know. Football moves so quickly, and as quickly as things develop positively, they can also go south and see you slip into a place where you're forgotten."
He pauses for a notably long time as he considers his answer, before responding, with a knowing smile.
"It's tough to say. I'm happy here and what happens next, we will see."
Perhaps he knows more than he's letting on. It has long been clear Brandt's talent beckons him to greater things, but his best kept secret is his down-to-earth character.